Are you ready for a NEW workout spot that will help you blast your unwanted fat?
Come and step out of your comfort zone, push past your limits and experience million dollar results for less than the cost of a couple trips to Starbucks!  Lets have Fun, in a Challenging and Intense environment.
No More Boring Cardio!
No Endless Workouts!
No Equipment Needed!
No Repetitive Workouts!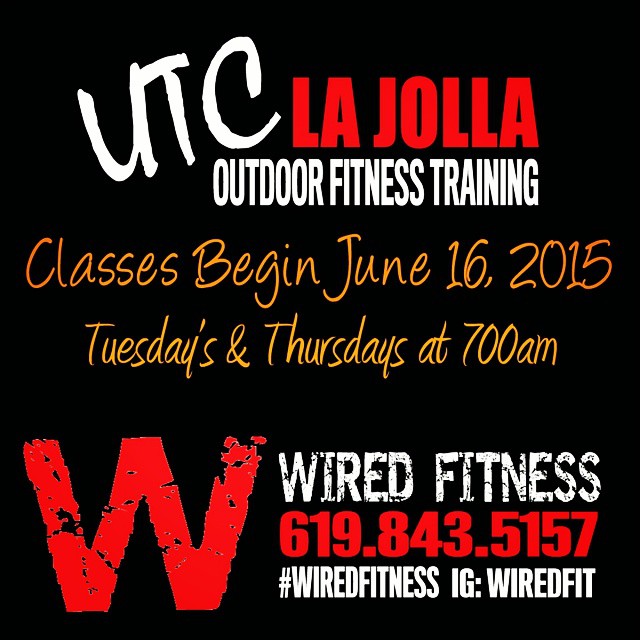 Welcome to Our Fitness Training Store!  Get Started TODAY…. Choose from outdoor group bootcamp classes, youth fitness and performance training session, private and buddy personal training, bridal programs, nutrition planning, macro calculations and body fat assessments.
We are also available for corporate events, brown bag lunches, fitness programs on campus and gym design for your facility.

WHEN:  NOVEMBER  2, 2013 @ 8:00AM
WHERE:  MISSION BAY PARK (GPS:  1392 EAST MISSION BAY DRIVE, 92109)
DETAILS & RSVP VIA THE WF FACEBOOK EVENT PAGE
We are excited to bring you a 'NEW' class to our lineup!   This class will be instructed by Sheri Kono, targeting a Beginner to Intermediate fitness level participant.
Solana Highlands Park – Del Mar
San Diego, CA 92130
(click direction link on place holder on map for driving directions)
Solana Highlands Park-Del Mar Outdoor Fitness Schedule
TUESDAY-THURSDAY
930AM
TRAINER: SHERI

View Solana Highlands Park – Del mar in a larger map
Personal Trainer Food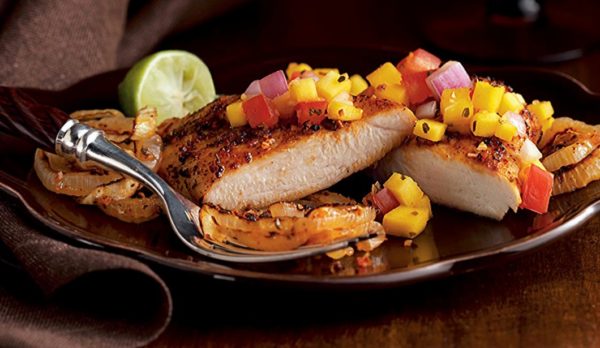 Prepared for YOU!  Shipped Frozen in Dry Ice!
Ready to eat!  No hassle!  1/3 of the cost of eating out!
COUPON CODES = singleparent = $75 OFF | relief60 = $60 OFF
Almost all nutritious food has fat in it. Fats are used for a variety of purposes including transporting vital nutrients to cells, assisting in digestion of certain foods, and providing us with energy in times of nutrient depletion. To be healthy you can't, and shouldn't, stay away from fat.  Still we find ourselves asking:  
How much fat should I eat in a day? 
What are the pros and cons of eating low-fat or fat-free?
What kind of fat should I be eating most?
Which foods provide healthy fats and which foods will kill me quickly?
It all depends on a couple factors:
Current bodyweight

Dietary goals

Cholesterol profile

Activity level

Lifestyle

Time of day
The American Heart Association recommends limiting dietary fat to 30% of total calories. Take into consideration however, if you are overweight, need to lower blood cholesterol, or have another medical concern, you may need less than the recommended 30%.
Why do I Need to Eat Fat?
Fats are vital to many of the body's primary functions, specifically digestion and nutrient absorption. The main form of fat found in food and also found in the body, makes up most of the body's stored energy. You may have heard of these type of fats before, we call them triglycerides. When your body is at rest or performing activity of a low intensity, it generates most of its energy from free fatty acids, which are released from the body's stores of triglycerides.
The calories in fat molecules (9 calories per gram) provide more than twice as much energy as carbs and protein (4 calories per gram). This is especially true in a glycogen depleted state, in which the body turns to fat for nearly all of its energy.
Lipids (fats) in foods transport fat-soluble vitamins to the intestines. This facilitates the absorption of of many vital nutrients such as A ,D, E and K. You risk developing deficiencies for some of these nutrients without an adequate amount of fat in your diet.
Eating foods that are high in fat helps us moderate our appetite through two means:
fat satiates hunger; you feel more satisfied after eating when you consume a meal higher in fat

since fat digests slower than carbs or protein, the presence of fat in the digestive system slows down the digestion process. This means a higher fat meal will stay in your stomach longer than a lower fat meal.
You might find yourself faced with increased hunger when your intake of calories from fat is reduced below 20% of total caloric intake.
Omega-3s and Omega-6s, the essential fatty acids, need to be ingested as part of the diet, as they cannot be manufactured within the body. These nutrients are the essential building blocks of compounds and molecules that are responsible for performing vital bodily functions such as helping blood to clot, immune system response, and blood pressure regulation. In women, the essential fatty acids also aid in healthy childbirth. The essential fatty acids can be found in foods containing soybean or canola oil, as well as in sardines, tuna, and salmon.
We also need to be aware that when fat is removed from most foods, the food manufacturers usually add carbohydrates in order to preserve a desirable taste and texture. Typically these carbohydrates are the worst kind of carbs for your body as they are mostly high-glycemic, processed refined sugars. Many low-fat and fat-free products remain energy dense for just this reason, since they still contain a high concentration of calories from carbohydrates rather than fat. 
We always need to remember that the source of our calories counts. Whether they come from fat, protein, or carbs we always need to be sure to use moderation when choosing portion sizes, even when eating fat-reduced foods. By now everyone is aware that the increasing variety of lower fat items is directly proportional to the American average weight going up, up, up.  Eating reduced fat or fat free is not the solution for weight loss. In fact, eating too many of these foods over the course of our childhood, teenage, and young adult years, can often lead to nasty diseases such as adult-onset type II diabetes.
Why Should I Stay Away From Fat?
The answer is simple: you shouldn't. The folks that should really stay away from fat the most are those with high cholesterol, and even then, they should be sure to consume the proper ratio and amounts of Omega-6 and Omega-3 fatty acids to stay healthy. If you have been told by your doctor that you need to reduce cholesterol, you should attempt to stay away from pork, beef, and eggs. Also check labels often for cholesterol content, because something like a salad dressing might contain more cholesterol than you think.
If you are extremely overweight, you will probably want to go easy on the fat only because it is so calorie dense. But in the same respect, if you are willing to bring your carbohydrate intake under 100 grams per day, then you should replace those lost carbs with protein and healthy fats.
When Should I Stay Away From Fat?
During the day you will probably want to stay away from fat late at night, and anytime near or around a workout. You want glycogen to be readily available, so you won't want slow down digestion by consuming fat before or during a workout. Doing so would also steal blood away from your extremities to send to the stomach to assist with digestion. It may sound petty, but every little bit counts. You also want to get fat-free glycogen back into the muscles ASAP after training. Therefore your post workout shake should contain 0 grams of fat if possible.  My post workout shake contains, no sugar added apple sauce, cinnamon, waxy maze (Dymatize Flud), and Quattro Protein.
In conclusion we can say that fat is good. Deriving 30-40% of your daily calories from fat is acceptable. Try to eat healthy fats from fruits, veggies, fish, eggs, nuts, and canola/soybean/olive oil. Minimize trans fats and saturated fats, making sure not to eat fats that are solid at room temperature like butter and animal fat. Try not to cook with fat either, since cooking healthy fats actually makes them unhealthy fats.
Eating a lower calorie, higher protein, higher healthy fat, lower carb kind of diet is one sure way to stay healthy and lose some weight. This is the type of lifestyle that can be permanent and effective!
Also, read How Much Protein I Should Eat and How Many Carbs Should I Eat.
WIRED FITNESS has been bringing San Diegans outdoor 'interval-styled' fitness classes and personal training in San Diego County since 2002. Providing high intensity interval (HIIT) styled workouts and personalized fitness training through many of our programs based on your goals. We work with all clients aged 8-80, from general fitness to sports specific performance training. Offering bridal programs for the bride to be, youth programs for the young athlete or child that needs to adopt a healthy lifestyle, to corporate fitness and wellness programs on a larger scale.
No program is complete without proper nutrition so we help you calculate your macros, dial in your nutrition plan with your goals and lifestyle and create a program that maximizes your results in the quickest time possible. For those not in San Diego we offer an online training program with custom-designed personal programs you can do at home, at the office, in your hotel room while you travel, or in your local gym. WF looks forward to help you succeed.
Contact one of our staff members to get started today 619.843.5157 or staff@wiredfitness.com.

Renewed enthusiasm for physical fitness…

I spent the summer in San Diego and through the recommendation of a trusted friend, went to check out Wired Fitness Bootcamps. I was NOT disappointed except when I had to move at the end of the summer! Bryan and his staff are professional and accommodating while still adhering to the highest quality for their clients. But enough about the administrative efforts – the workouts were incredible: unique, motivating, extremely challenging and exciting all rolled into an hour. I learned a lot about my athletic abilities (strengths and weaknesses) this summer through being challenged by Wired Fitness instructors and walked away with renewed enthusiasm for physical fitness. I'm looking forward to returning to San Diego in the future and getting back into regular Wired Fitness Bootcamps!  
Loving every minute of it…

Going on 3 years with Wired Fitness and loving every minute of it!!!  Prior to joining I had tried multiple gyms, bootcamps, and different workout routines but nothing kept me motivated  enough to work out consistently on a regular basis.  The challenge I get from these workouts is addicting and keeps me attending 3-4 classes a week!!  Every workout is a unique experience and is constantly varied.  The work outs are high intensity and the trainers accommodate every level of fitness.  Three weeks ago I completed my first Triathlon and I owe it all to Wired Fitness.  If it wasn't for the energy and strength I discovered in these workouts, I would have never thought capable of achieving such endurance.  To think that 4 years ago I came off the couch from not having done any physical activity in over a decade, suffering from high blood pressure/cholesterol…to where I am now!!  I've had the privilege of working out with every trainer at Wired Fitness and have enjoyed each trainers exclusive approach!  Special shot out to Amber from their Eastlake class and of course to Bryan "The Muscle Man" Schuler from Mission Bay!!  Wired Fitness has a "Lifer" in me and I'm confident you will be too if you give them a try.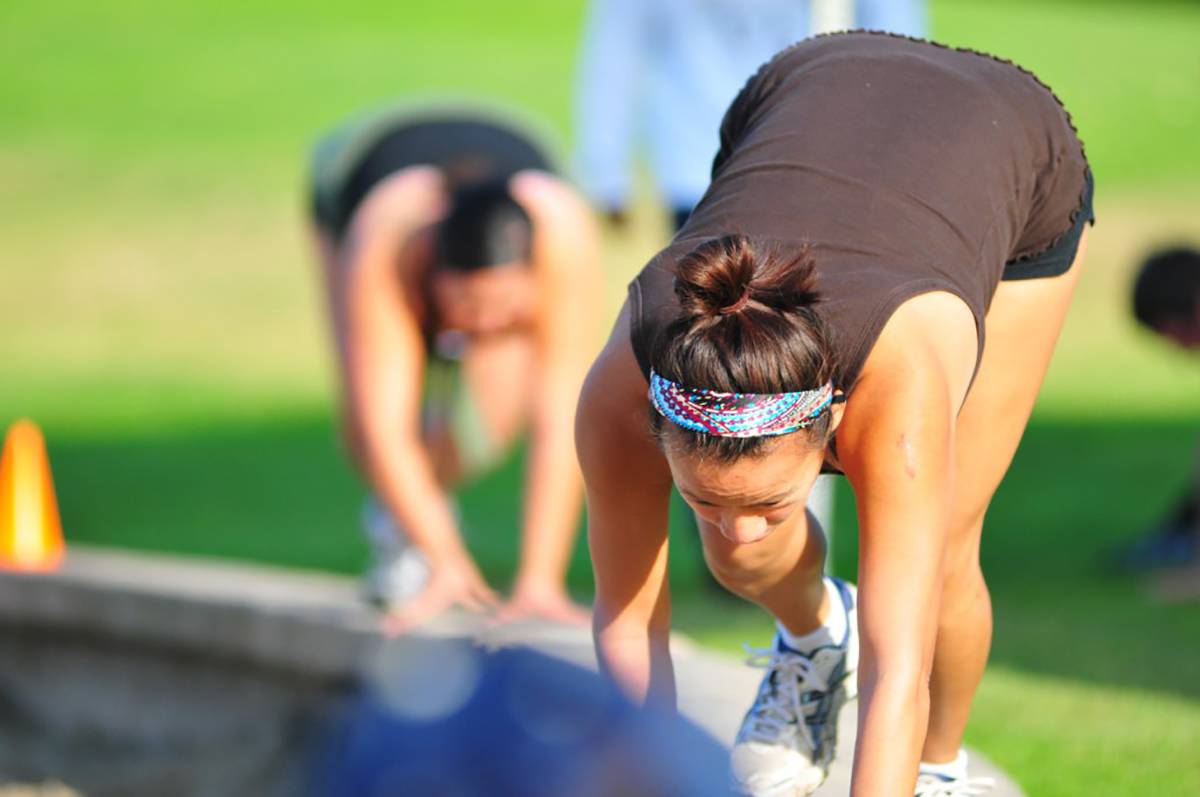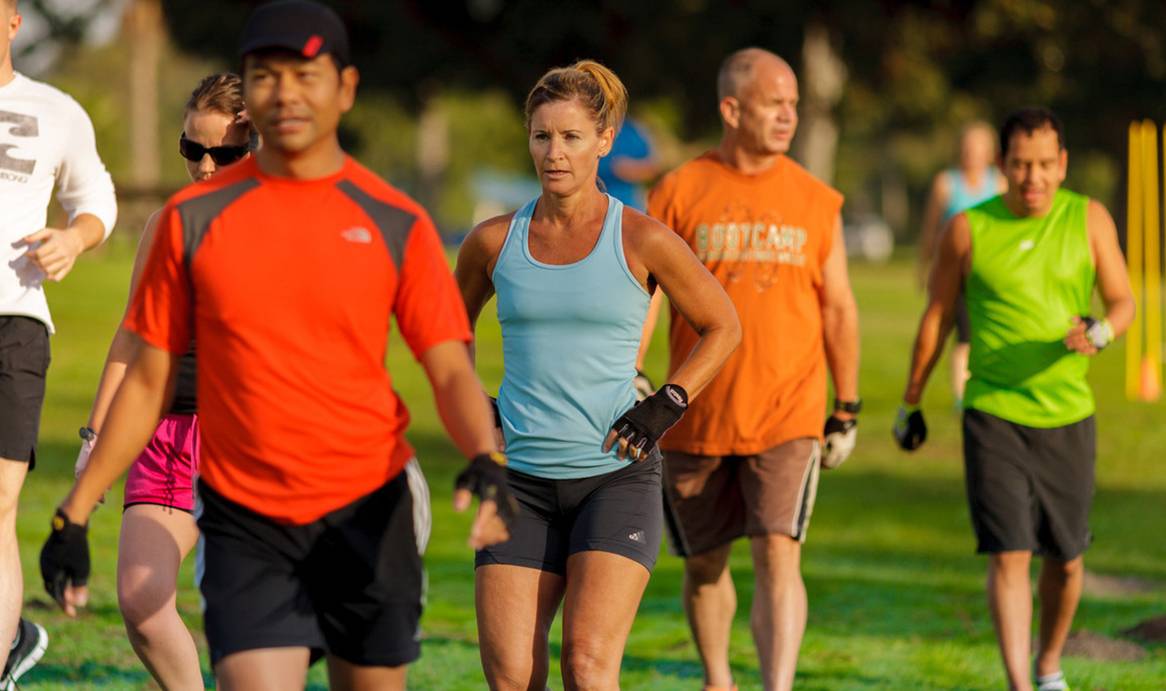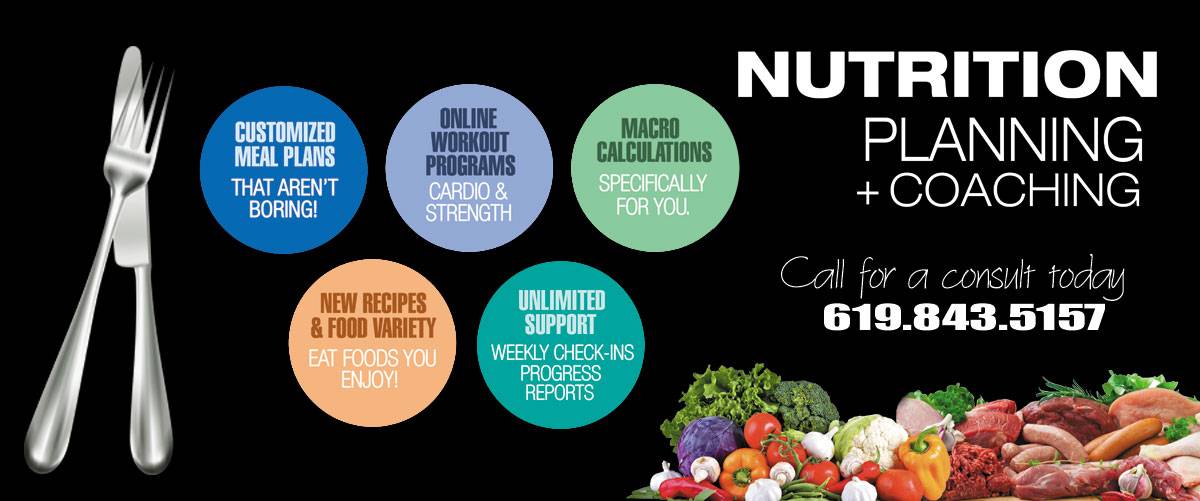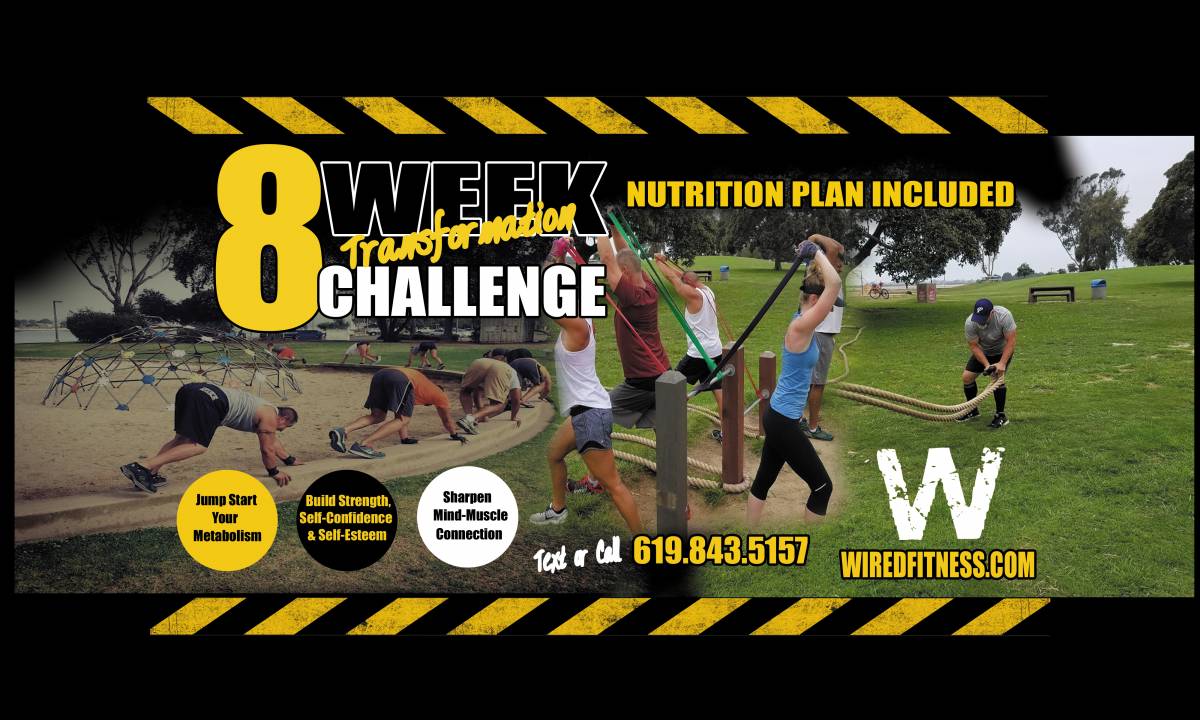 It's hard doing it on your own, at Wired Fitness San Diego we have created a culture of motivation in our fitness bootcamp classes!  We motivate you into learning how to get fit for life and help you maintain this progress over time.  We track your progress by measurements and before and after pictures while participating in our outdoor boot camp training programs. Our convenient schedule of morning and after work classes help to ensure you can fit us in your daily routine. We suggest you attend class a minimum of three days per week, although you can participate as much as you want with our unlimited packages!  Your training journey starts with a free class or consultation.  From there your trainer will set a schedule for you based on your goals, and other activities you are participating in. 
Your program will include:
A constantly varying workout regimen

HIIT interval styled training sessions 

Body assessment & composition testing (Optional)

Personalized macro & nutrition plan (Optional add-on)

San Diego's 'Best' Outdoor Fitness Bootcamp Class
San Diego Bootcamp,  Group Fitness Class, Personal Training, Youth Fitness
They can customize the workouts….

I'm a bit of a fitness junkie, you name it, I've tried it, 5k's 10k's half, MMA & yoga. To provide some perspective, I do train in crossfit as well. In my late 30's, so I am well familiar with intense workouts and regimens. I can honestly say that through their bootcamp session Every class is different, so your body never gets used to the workouts, an intense 1 hour session of constant cardio, strengthening and agility workouts that truly push you to your limit. What's also great is that they can customize the workout to your needs. For example, I have an ailment (knee) that prevent me from doing certain workouts. Instead, they have me do alternate exercises that work me just as hard, if not harder. What's also great is that the classes consist of people vary across the spectrum. You have people who are avid marathoners working out with people who have never visited a gym before. It's a great mix of folks!