Are You Ready for a Challenge?
The below challenge can be done using weight plates, dumbbells, barbells, kettle bells, medicine balls, gallon water bottles or even grocery bags filled with sand.
The lunges are per side
Adjust the #'s based on your fitness level, just keep it progressing by the day.
Challenge yourself and push past your normal limits to achieve the best results.
Let me know if you have any questions.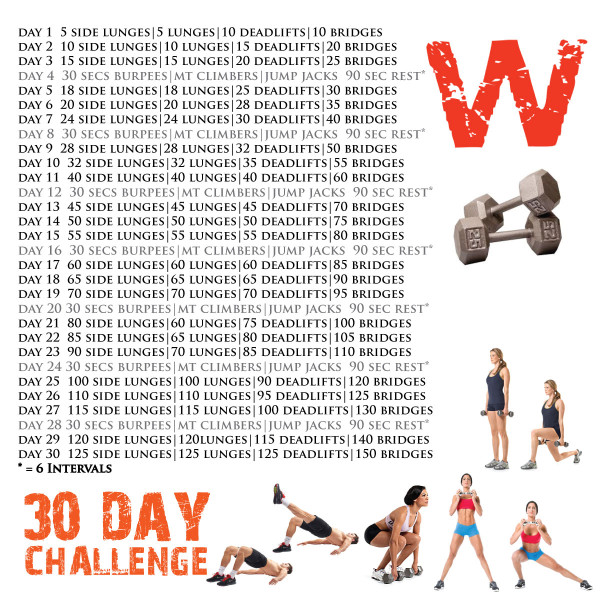 If you've been away from Wired Fitness for over a year or a 'New Client' you can take advantage of this offer!
$99 a month for Unlimited Classes (reg $150)
Package of 3, 6, 9, 12 plus months available at this price.
Private and Buddy Training Specials up to 50% discount till Monday 11:59PM (12/1/14)
SALE COMPLETE!
Enjoy a class on us….
…for showing your support for Wired Fitness and it's trainers, both past and present.  Your vote is important to our staff so we can continue to change lives in San Diego as one of the 'Top' Bootcamp and Personal Training companies.  Since 2008 we have been the 'best' choice by many local companies, see some of our awards.  To continue this journey we need your endorsement.  By voting and sharing your support via Facebook, Twitter, Google+, Instagram, LinkedIn, you get a free class to use in addition to your current schedule or to throw in anytime for non-members.
Vote for Wired Fitness  HERE!
We hope all of you are enjoying your Summer so far with friends, and loved ones.  Remember all it takes is 3 hours a week to make some awesome changes in your bodies.  More evening Mission Bay classes coming soon, and Doyle Park-UTC starting soon with some later morning and Friday evening classes.
FREE Class Coupon*  (See restrictions and info below)  
Don't forget to 'TAG' me on Facebook/Twitter/Instagram using #wiredfitness.  Add a Tip & Share to Facebook and/or Twitter to get the free class!
Thanks for your support and loyalty,
Bryan Schuler
Try our classes and experience our fun, challenging, and intense Outdoor Fitness Classes for

FREE

!  
If you're ready to 'Get Started'  

Click Here
Introductory Specials and Summer Packages Available!

Teacher & Military Discounts Available!
Inquire Today  619.843.5157
1-on-1 Personal Training, Semi-Private Training and Private Groups also available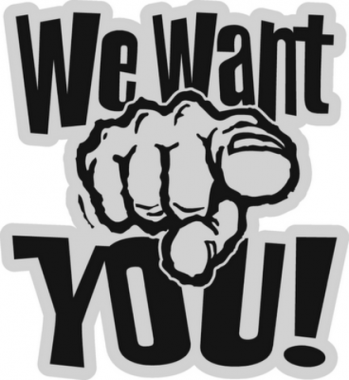 New & Returning Participants Are Needed!
Results are Waiting….
Spring into Summer with an AWESOME Deal…  Buy 2 (Any Monthly Package or Punch Cards)* and receive an identical Month or Card for FREE!  That's 3 months of classes for the price of 2.  What better way to get ready for Summer, than a fat-melting, outdoor fitness class, challenging your endurance, strength, cardiovascular performance, core strength, all while having a great time side-by-side with great people.
Come out and flip some tires, battle some ropes, pull some tires and chains,  challenge your balance and stability while building strength on the TRX, or even see how you can master your own body weight.  You have the ability to burn 500 to 1200+ calories in each 60-minute session, while getting a full-body workout.  Can you accomplish that on your own, workout after workout?  If not, What are you waiting for?  Come out to Mission Bay, enjoy an awesome sunset and workout in the evenings, or start your mornings off the best way possible with an awakening jolt to your system in Carmel Valley during the week, a intimate mid-morning Del Mar workout, or an early morning Saturday fat-blast by the Bay.
Contact a Staff Member at staff@wiredfitness.com for more details on how you can be ready for the Summer in 12 Weeks.  Also Available, Semi-private (2-3 Participant) and 1-on-1 Sessions.  Ask for more detail and specials for these personal options.
Join us Saturday, at 800AM in Mission Bay on WF, and let's get you back on path to success.
SAVE an Extra 10% off  the package if you're, active Military, a Teacher, full-time Student, Nursing professional, or if you bring a friend to signup at the same time.  Does it get any better than this?
I'm Looking for 18 people who want to lose 5 Inches and drop 10 Pounds in ONLY 15 Days?
I'm testing out a new "beta" program that combines metabolic training, nutritional programming and cleansing together to help you burn maximum fat pounds and inches in only 15 days.
So I'm effectively looking for 18 guinea pigs to test drive my new 5-10-15 fat loss program.
Just the thing you'd been waiting for! 🙂
If this sounds like it's something you'd want to do then let me know today by replying to this email or just call me at (619) 843 – 5157 because the program starts on Monday, February 17th 2014.
Here are some details about the program that you should know before you consider joining…
This is a 15 day training and nutrition (manipulation) program that's relatively intense.  You will take your body through a 10-day Herbal Cleanse that is very safe and you eat REAL food the whole cleanse.  You're going to work hard for 15 days, either in class or independently BUT your results are going to come fast and will be significant when you follow my new program.
Some people will lose as much as twelve pounds during these 15 days and even more than just five inches of their thighs and waist combined, but I'm estimating that the average loss will be five inches off the total body and 10 pounds of fat in only 15 days – which is why I'm naming this my 5-10-15 fat loss program. 
Creative, right?
Here's how it works… You'll come and workout with me three to five days per week for 15 days. And you'll follow the eating plan that I'll give you (because you can't out train a bad diet).
Like I said, the workouts will be challenging and intense, but they can be modified for all fitness levels so don't worry if you're new to working out. And you will experience soreness in your muscles. Nothing too bad, but definitely some soreness letting you know that you just had an awesome workout.
Now here's the best part of this whole thing… the cost.
Since this is my beta version and since I'm only taking on a small group of 18 new clients on this program. I've priced it for anyone to afford.
The entire 5-10-15 fat loss program is only $125 ($76 for the products and $49 for the classes)… includes cleanse, omegas, and the BEST Energy Drink on the market…..PLUS 15 Days of Bootcamp access.
Like I said the program starts next Saturday at my Mission Bay Fitness Camp at 800AM here in San Diego. So if you want to be one of the first 18 people on the program and get a lot of fat burning and muscle tone done in only 15 days then you need to call me now at (619) 843-5157 to lock in your spot for next Saturday.
If you have any questions just reply to this email or call me at (619) 843-5157.
I have a feeling this program is going to sell out quickly at this low price and with the limited number of spots available. So don't wait if you think it's right for you.
Looking forward to seeing you in the program next Saturday!
Bryan Schuler
With the aromas of pies and cookies cooking, dishes loaded with butter, sugar, cream and flour, it doesn't make it easy to stay on track with your fitness goals.  If you must partake in these guilty pleasures, please do so in moderation to minimize the guilt from your feast.  Most Americans will consume on

average 1,750 – 4,800 calories

(

3,500 calories = 1lb of fat

) during their feast, so to recover from that you would have to do

'FOUR' back-to-back Bootcamp classes

(

1800- 3500 clories burned

)!!!   Here are the things to avoid if at all possible:
Alcohol:  From 100 calories for a small glass of wine to a whopping 500+ for most sweet mixed cocktails, these are calories that should be avoided.  We won't even talk about stopping the fat metabolism process here, that is for another discussion.
Pies:  Loaded with sugar and more sugar and with some, adding whipped cream and ice cream is just setting you up for diet disaster.  If you have to eat pie, try eating around the crust, and leave all the toppings off.
Bread Stuffing:  White flour and loads of butter (sometimes fatty sausage-meat)?  a knockout punch for disaster…Try leaving the meat out and add some vegetables.  Use a wholegrain or whole wheat bread for half or the whole recipe, and substitute coconut oil for some of the butter.
Sweet Potato Casseroles:   Brown sugar, cinnamon, marshmallows…  Ugh!  An hour of cardio per serving!!!  If you can?  Eat them by themselves with cinnamon so you still get the fiber and vitamins they are rich with.  If you must have marshmallows, add just a few.  Here is a healthy recipe at half the calories.
Mashed Potatoes w/ Gravy:  More butter and more cream…  Another 400+ calories to bust those zippers!   Try using low fat or fat free milk, a small amount of the butter while adding some fat free sour cream to flavor up your dish.
WHEN:  NOVEMBER  2, 2013 @ 8:00AM
WHERE:  MISSION BAY PARK (GPS:  1392 EAST MISSION BAY DRIVE, 92109)
DETAILS & RSVP VIA THE WF FACEBOOK EVENT PAGE
What are Superfoods?
   They have been touted all over the media as the best foods to eat for optimal energy, nutrient intake and providing substantial health benefits such as antioxidants, healthy skin and nails, digestive support, and the list goes on.  Superfoods are a special category of foods found in nature. By definition they are calorie sparse and nutrient dense meaning they pack a lot of punch for their weight as far as goodness goes.They are superior sources of anti-oxidants and essential nutrients – nutrients we need but cannot make ourselves
Look for these items the next time you go food shopping:
Lean red meat (93% lean, top round, sirloin)- eat sparingly
Poultry – Lean chicken or turkey, white meat
Whey Protein Isolate Powder mix (look for brands that have very little additives and sweeteners)
Cruciferous Veggies (Carrots, Cauliflower, Broccoli)
Beans – red, black, kidney, baked…
Sweet Potato
Spaghetti Squash
Butternut Squash
Quinoa (great as a pasta replacement or a salad filler)
Brown Rice
Whole Oats (Oatmeal, Muesli, etc)
Mixed Nuts (raw, unsalted)
Everyone eats carbohydrates. You pretty much can't get around it. We need carbs for energy after all.
But the questions still remain: How many carbs should I eat in a day?
Are there drawbacks from eat too little or too many carbs?
What are the side effects of eating carbs or abstaining from eating carbs?
When should I eat carbs during the day?
As with How much fat to eat in a day and How much protein to eat in a day, it all depends on a couple factors:
Job

Insulin resistance

Activity level

Target body weight

Exercise goals

Lifestyle
The most recent Dietary Guidelines for Americans, as stated by the Department of Health and Human Services, suggest that roughly 50% of your daily calories come from carbs. Thus, a person who eats approximately 2,500 calories per day should take in about about 300 grams of carbs. This number is not altogether bad for the average American, but we have to take into consideration the sources of those carbs.
These are the kinds of carbs to avoid at all costs:
Sugary snacks and pastries

Sugar-sweetened soft drinks or fruit juice

Candy

Cookies

Regular fried greasy chips

Processed, packaged snack foods

High sugar kids cereals

Processed white flour products such as white bread and pasta
These foods offer virtually no nutritional value, and they contain far too many calories. Some of these foods also contain saturated and trans-fats that are bad for your heart, and sugary foods can lead to such maladies as type II diabetes and cardiovascular disease. Specifically if you are already insulin resistant, you should avoid these bad carbs as they will just ruin your day by making you tired, slow, dumb, and hungry.
Instead choose these kinds of carbs:
Fresh fruit

Vegetables

Whole wheat and whole grain products

Beans, nuts, and other legumes
When Do I Need More Carbs?
People that exercise with high intensity or with prolonged endurance, can benefit from a high carbohydrate intake before exercise. It is feasible to consume a high carbohydrate meal before a marathon, or a moderately high carbohydrate meal before lifting weights or martial arts training. It is not a good idea to consume too many carbs in one sitting, but 50 grams is not out of the question if you are preparing for a physically draining event.
During and after exercise is also a key time to consume carbs. In fact this is the only time it is recommended to consume sugary carbs. I tend to sip on Gatorade during a workout and my post-workout Shake contains about 40 grams of carbs in the form of dextrose and about 36 from natural apple sauce. This helps me to replenish lost glycogen stores and restart protein synthesis after a demanding workout.
When Do I Need Fewer Carbs?
There is no need to eat carbohydrates at night. Ever. Some folks believe in consuming a high-carb meal the night before an event like a marathon, but I just don't see it. I would say eat that meal in the morning if the event is in the late morning or early afternoon. The best time for a high carbohydrate meal is in the morning, when your body is prepared to uptake glycogen for energy for the day. Lunch should be a moderate carb meal as you don't want to get that 'bonk' feeling in the middle of the afternoon. Also consider that if you don't plan to exercise during the day then there's really no need to gulp down many carbs at any point in the day.
Carbs and Fat Loss
If you are on a fat loss diet, then there's definitely no need to eat more than 100 grams of carbs in any one day. I don't necessarily support Atkins, but there are valid points to that diet.  Ultimately, you should contact a Nutritionist for your specific prescription.
 In conclusion, I recommend that if you are moderately active, you should derive maybe 30% of your daily calories from carbs. Sure, my opinion differs from specialist government agencies, but that's only because I have seen low carb diets work. I have also seen Americans grow obese and suffer from a long list of carbohydrate induced diseases.
A 200 lb man on a 2500 calorie diet would probably eat maybe 180 grams of carbs in a day, all from unprocessed whole food sources. A 140 lb woman on a 1500 calorie diet might only eat 100 grams of carbs in a day.
Someone on a strict diet might limit themselves to 50 grams of carbohydrates a day regardless of sex or weight. Just remember to avoid those nasty sugary processed carbs so that you can stay healthy, avoiding energy crashes and adult-onset type II diabetes.