Wired Fitness' 8 Week Lifestyle Challenge begins on April 1, 2018.   Is summer ready for you?  In 8 weeks you will shed fat, strengthen, tone and sculpt your body, increase your fitness levels, and most importantly, transform your lifestyle to carry these results with you. It incorporates individualized nutrition planning, expert personal training, and engaging group bootcamp classes to transform your body into a new you. 
We will not have you starving your brain with drastic calorie restrictions, you will eat foods that you crave, prepare your meals from recipes and not just eating bland foods.  This type of eating will stay with you long term.  You won't yo-yo and bounce back from your results.  
We will teach you how to lose weight and improve your fitness in a fun and rewarding way.  Learn how to strip the fat, lose the extra weight, without damaging your metabolism and body.
What's Involved?
Exercise.  The amount is up to you!  We recommend a minimum of 3 workouts a week, the more the better.  One of these sessions should be with a WF trainer individually, a workout created by your trainer or an outdoor bootcamp class.
Nutrition.  We will introduce you to fast, easy, health and delicious foods in line with your goals that the whole family can enjoy.  No bland foods that will leave you straying away from your plan.  All of the recipes can be created with multiple servings you will be able to use throughout the week.  You will learn how to create delicious meals so you can come up with meals on your own after the 8 weeks have ended.  Every participant will have their macros calculated based on their goals and lifestyle.
Motivation & Support.  This starts withing you.  That animal is hiding inside of you, hibernating, waiting to be unleashed.  We will teach you how to set goals, achieve them, so you can overcome obstacles, both mental and physical, and lean to reach your full potential.  You will build friendships with existing members and be part of a supportive group atmosphere.  The trainers are available for you in case you run into roadblocks or have questions to ensure success.
Results.  Set your mind to it and get shocking results.  This isn't only about weight loss so we will create two categories, one for body composition and one for fitness levels.  $50 from each participant will go into the pot and the winners of each category, one male and female, will split the winnings.
This is what you need to know.  We will conduct measurements at the beginning and on the last day of the 8 week challenge.  We will also do a mini fitness test to determine improvements in that category.  The entry fee is $150 for non-members (includes a free Saturday bootcamp class) and $50 for current members.  $50 from each participant will go into the the prize pot!  You can add additional bootcamp classes, private training or exercise programs designed for you to do independently at a discount rate.  Please advise and we will accommodate.  You can still participate in the challenge without being entered into the contest (for those out of town).  This challenge sold separately is valued over $700.  
To join simply click here and complete the informational registration,  click on 8 week program in our store and get ready to change your life.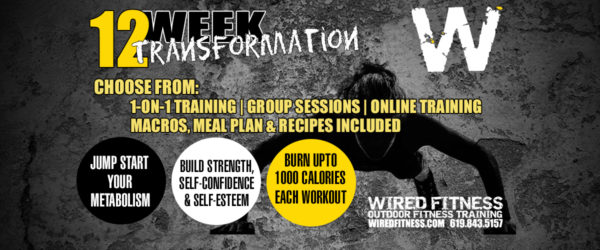 Welcome to Wired Fitness San Diego!  Are you ready to step out of your comfort zone to see results?  We are here to direct you along the right path and to help you hop on the success train.  You will get local San Diego bootcamp fitness classes, personalized gym workouts, or home workouts.  We will calculate your custom macro nutrient numbers to create an individualize meal plan that fits your lifestyle, schedule and goals.  You will get unlimited support during your 90 days so no worries about staying on track with your program.
Get Started today! 
Starting NOV 2017 we will be offering a new class time in a location from our past…  Wired Fitness San Diego has been offering, challenging, intense and fun outdoor personal training groups for the past 16 years.  It's been about 4 years since we help a bootcamp in Liberty Station so help us start this awesome location back up. 
We will be offering the follow in class times to start:
TTH 6-7AM
TTH 9-10AM (or 930-1030AM)
To help us promote this new spot we will be offering new or returning clients 50% OFF their first month.  Bring a friend or more for additional savings! 
Three friends equals your 2nd month FREE.
Are You Ready for a Challenge?
The below challenge can be done using weight plates, dumbbells, barbells, kettle bells, medicine balls, gallon water bottles or even grocery bags filled with sand.
The lunges are per side
Adjust the #'s based on your fitness level, just keep it progressing by the day.
Challenge yourself and push past your normal limits to achieve the best results.
Let me know if you have any questions.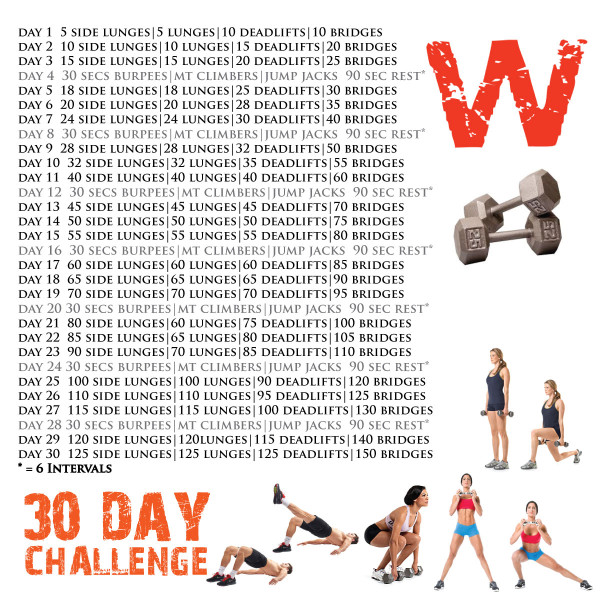 If you've been away from Wired Fitness for over a year or a 'New Client' you can take advantage of this offer!
$99 a month for Unlimited Classes (reg $150)
Package of 3, 6, 9, 12 plus months available at this price.
Private and Buddy Training Specials up to 50% discount till Monday 11:59PM (12/1/14)
SALE COMPLETE!
Enjoy a class on us….
…for showing your support for Wired Fitness and it's trainers, both past and present.  Your vote is important to our staff so we can continue to change lives in San Diego as one of the 'Top' Bootcamp and Personal Training companies.  Since 2008 we have been the 'best' choice by many local companies, see some of our awards.  To continue this journey we need your endorsement.  By voting and sharing your support via Facebook, Twitter, Google+, Instagram, LinkedIn, you get a free class to use in addition to your current schedule or to throw in anytime for non-members.
Vote for Wired Fitness  HERE!
We hope all of you are enjoying your Summer so far with friends, and loved ones.  Remember all it takes is 3 hours a week to make some awesome changes in your bodies.  More evening Mission Bay classes coming soon, and Doyle Park-UTC starting soon with some later morning and Friday evening classes.
FREE Class Coupon*  (See restrictions and info below)  
Don't forget to 'TAG' me on Facebook/Twitter/Instagram using #wiredfitness.  Add a Tip & Share to Facebook and/or Twitter to get the free class!
Thanks for your support and loyalty,
Bryan Schuler
Try our classes and experience our fun, challenging, and intense Outdoor Fitness Classes for

FREE

!  
If you're ready to 'Get Started'  

Click Here
Introductory Specials and Summer Packages Available!

Teacher & Military Discounts Available!
Inquire Today  619.843.5157
1-on-1 Personal Training, Semi-Private Training and Private Groups also available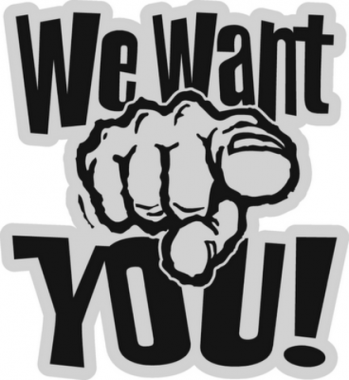 New & Returning Participants Are Needed!
Results are Waiting….
Spring into Summer with an AWESOME Deal…  Buy 2 (Any Monthly Package or Punch Cards)* and receive an identical Month or Card for FREE!  That's 3 months of classes for the price of 2.  What better way to get ready for Summer, than a fat-melting, outdoor fitness class, challenging your endurance, strength, cardiovascular performance, core strength, all while having a great time side-by-side with great people.
Come out and flip some tires, battle some ropes, pull some tires and chains,  challenge your balance and stability while building strength on the TRX, or even see how you can master your own body weight.  You have the ability to burn 500 to 1200+ calories in each 60-minute session, while getting a full-body workout.  Can you accomplish that on your own, workout after workout?  If not, What are you waiting for?  Come out to Mission Bay, enjoy an awesome sunset and workout in the evenings, or start your mornings off the best way possible with an awakening jolt to your system in Carmel Valley during the week, a intimate mid-morning Del Mar workout, or an early morning Saturday fat-blast by the Bay.
Contact a Staff Member at staff@wiredfitness.com for more details on how you can be ready for the Summer in 12 Weeks.  Also Available, Semi-private (2-3 Participant) and 1-on-1 Sessions.  Ask for more detail and specials for these personal options.
Join us Saturday, at 800AM in Mission Bay on WF, and let's get you back on path to success.
SAVE an Extra 10% off  the package if you're, active Military, a Teacher, full-time Student, Nursing professional, or if you bring a friend to signup at the same time.  Does it get any better than this?