Are You Ready for a Challenge?
The below challenge can be done using weight plates, dumbbells, barbells, kettle bells, medicine balls, gallon water bottles or even grocery bags filled with sand.
The lunges are per side
Adjust the #'s based on your fitness level, just keep it progressing by the day.
Challenge yourself and push past your normal limits to achieve the best results.
Let me know if you have any questions.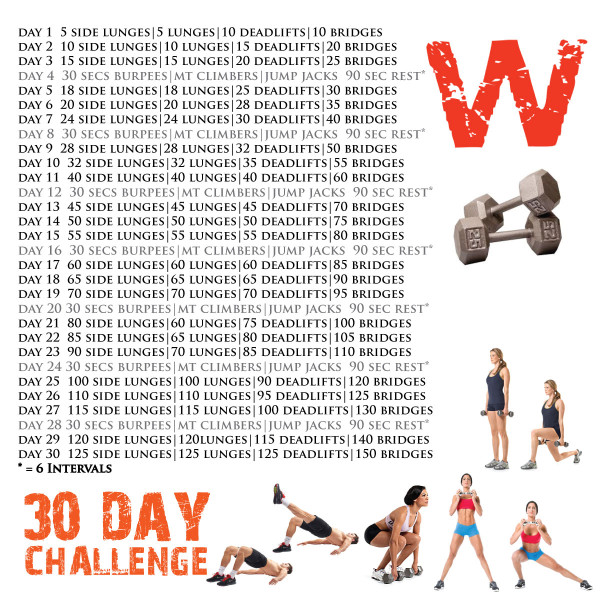 If you've been away from Wired Fitness for over a year or a 'New Client' you can take advantage of this offer!
$99 a month for Unlimited Classes (reg $150)
Package of 3, 6, 9, 12 plus months available at this price.
Private and Buddy Training Specials up to 50% discount till Monday 11:59PM (12/1/14)
SALE COMPLETE!
Enjoy a class on us….
…for showing your support for Wired Fitness and it's trainers, both past and present.  Your vote is important to our staff so we can continue to change lives in San Diego as one of the 'Top' Bootcamp and Personal Training companies.  Since 2008 we have been the 'best' choice by many local companies, see some of our awards.  To continue this journey we need your endorsement.  By voting and sharing your support via Facebook, Twitter, Google+, Instagram, LinkedIn, you get a free class to use in addition to your current schedule or to throw in anytime for non-members.
We hope all of you are enjoying your Summer so far with friends, and loved ones.  Remember all it takes is 3 hours a week to make some awesome changes in your bodies.  More evening Mission Bay classes coming soon, and Doyle Park-UTC starting soon with some later morning and Friday evening classes.
FREE Class Coupon*  (See restrictions and info below)  
Don't forget to 'TAG' me on Facebook/Twitter/Instagram using #wiredfitness.  Add a Tip & Share to Facebook and/or Twitter to get the free class!
Thanks for your support and loyalty,
Bryan Schuler
Try our classes and experience our fun, challenging, and intense Outdoor Fitness Classes for

FREE

!  
If you're ready to 'Get Started'  

Click Here
Introductory Specials and Summer Packages Available!

Teacher & Military Discounts Available!
Inquire Today  619.843.5157
1-on-1 Personal Training, Semi-Private Training and Private Groups also available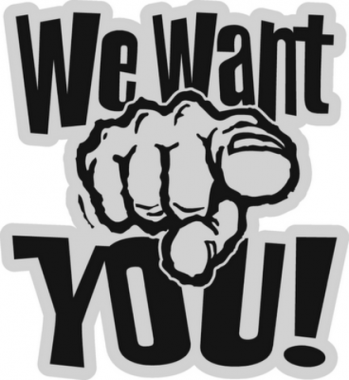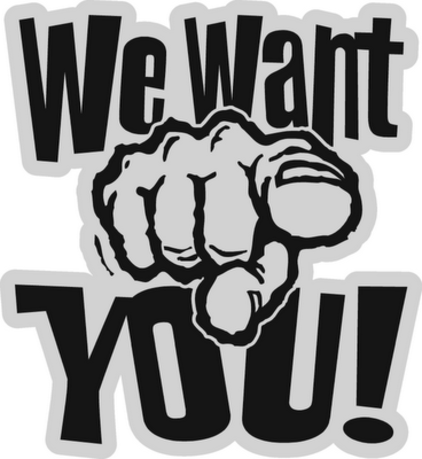 We will be holding classes, semi-private (2-4 participants) training, and 1-on-1 private sessions at Doyle Park off Regents Rd. in the La Jolla Colony – UTC Area starting MAY 2014.   Some proposed time slots for classes and small group training are:
Monday – Friday 900AM
Tuesday's & Thursday's 700AM | 800AM | 1200PM
Friday's 500PM
If you'd like to train at a different time convenient for your schedule, please contact a Staff Member today!
New & Returning Participants Are Needed!
Results are Waiting….
Spring into Summer with an AWESOME Deal…  Buy 2 (Any Monthly Package or Punch Cards)* and receive an identical Month or Card for FREE!  That's 3 months of classes for the price of 2.  What better way to get ready for Summer, than a fat-melting, outdoor fitness class, challenging your endurance, strength, cardiovascular performance, core strength, all while having a great time side-by-side with great people.
Come out and flip some tires, battle some ropes, pull some tires and chains,  challenge your balance and stability while building strength on the TRX, or even see how you can master your own body weight.  You have the ability to burn 500 to 1200+ calories in each 60-minute session, while getting a full-body workout.  Can you accomplish that on your own, workout after workout?  If not, What are you waiting for?  Come out to Mission Bay, enjoy an awesome sunset and workout in the evenings, or start your mornings off the best way possible with an awakening jolt to your system in Carmel Valley during the week, a intimate mid-morning Del Mar workout, or an early morning Saturday fat-blast by the Bay.
Contact a Staff Member at staff@wiredfitness.com for more details on how you can be ready for the Summer in 12 Weeks.  Also Available, Semi-private (2-3 Participant) and 1-on-1 Sessions.  Ask for more detail and specials for these personal options.
Join us Saturday, at 800AM in Mission Bay on WF, and let's get you back on path to success.
SAVE an Extra 10% off  the package if you're, active Military, a Teacher, full-time Student, Nursing professional, or if you bring a friend to signup at the same time.  Does it get any better than this?
I'm Looking for 18 people who want to lose 5 Inches and drop 10 Pounds in ONLY 15 Days?
I'm testing out a new "beta" program that combines metabolic training, nutritional programming and cleansing together to help you burn maximum fat pounds and inches in only 15 days.
So I'm effectively looking for 18 guinea pigs to test drive my new 5-10-15 fat loss program.
Just the thing you'd been waiting for! 🙂
If this sounds like it's something you'd want to do then let me know today by replying to this email or just call me at (619) 843 – 5157 because the program starts on Monday, February 17th 2014.
Here are some details about the program that you should know before you consider joining…
This is a 15 day training and nutrition (manipulation) program that's relatively intense.  You will take your body through a 10-day Herbal Cleanse that is very safe and you eat REAL food the whole cleanse.  You're going to work hard for 15 days, either in class or independently BUT your results are going to come fast and will be significant when you follow my new program.
Some people will lose as much as twelve pounds during these 15 days and even more than just five inches of their thighs and waist combined, but I'm estimating that the average loss will be five inches off the total body and 10 pounds of fat in only 15 days – which is why I'm naming this my 5-10-15 fat loss program. 
Creative, right?
Here's how it works… You'll come and workout with me three to five days per week for 15 days. And you'll follow the eating plan that I'll give you (because you can't out train a bad diet).
Like I said, the workouts will be challenging and intense, but they can be modified for all fitness levels so don't worry if you're new to working out. And you will experience soreness in your muscles. Nothing too bad, but definitely some soreness letting you know that you just had an awesome workout.
Now here's the best part of this whole thing… the cost.
Since this is my beta version and since I'm only taking on a small group of 18 new clients on this program. I've priced it for anyone to afford.
The entire 5-10-15 fat loss program is only $125 ($76 for the products and $49 for the classes)… includes cleanse, omegas, and the BEST Energy Drink on the market…..PLUS 15 Days of Bootcamp access.
Like I said the program starts next Saturday at my Mission Bay Fitness Camp at 800AM here in San Diego. So if you want to be one of the first 18 people on the program and get a lot of fat burning and muscle tone done in only 15 days then you need to call me now at (619) 843-5157 to lock in your spot for next Saturday.
If you have any questions just reply to this email or call me at (619) 843-5157.
I have a feeling this program is going to sell out quickly at this low price and with the limited number of spots available. So don't wait if you think it's right for you.
Looking forward to seeing you in the program next Saturday!
Bryan Schuler
Do you exercise because you want to lose weight?
Well, if so, Low intensity cardio is NOT the best way to go about burning fat.
 Low intensity workouts are great for building endurance, but they're not the best choice if your goal is weight loss. When your muscles have to continuously contract for 30, 45 or 60 minutes (such as the case for low intensity cardio), that energy has to come from somewhere. The body is stubborn and doesn't want to burn fat for energy so it often times eats up your muscle instead during this type of training.  This immediately kills your metabolism and it robs your body of strength and athleticism.
Why should you care about your muscles?
 Because the more muscle you have, the more calories you burn, even at rest- You have to treat your hard earned muscle like GOLD- As it's what keeps your metabolism revving.  Even if you're goal isn't muscle growth, you need to AVOID losing muscle just for the fat loss benefits alone!  If you lose muscle, you're making it harder to lose weight, not easier.  One of the keys to getting ripped – for girls and guys – is exercising in a way that stimulates your metabolism, even after you've stopped exercising.  
When it comes to cardio, scientific research shows that high intensity cardio is significantly more effective than low intensity cardio.
Why?
High intensity cardio forces your body to keep burning fat and calories after you stop training.  Think about this for a second.  If you do low intensity cardio, you'll burn calories ONLY during exercise.  When you stop exercising, you stop burning calories.  But imagine this…
Even AFTER you've stopped exercising, your body burns fat. You could be sitting on the couch, watching TV, and your body would still be burning fat and getting you lean.  That's what happens when you do high intensity cardio.  Instead of jogging, walking or swimming for 30 to 45 minutes, do high intensity cardio.
Do short, quick circuits of body weight exercises such as jumping jacks or burpees, similar to how we put together your Bootcamp workouts.  For example, do burpees for 20 seconds, then take a 10 second rest.  Repeat the circuit 8 times.
Now – there's important lesson coming up.  It's about a Fat Loss Myth – "Just eat less and you'll lose weight." Unfortunately, it's not that simple.In fact, this advice can be downright harmful.  Cutting calories is NOT the way to lose weight.
In a few days, you'll find out why……
Caffeine tends to get a bit of a bad rap
that is hardly warranted when used properly.
Studies show consuming approximately
200mg of caffeine pre-workout can increase
the number of calories you burn by increasing
your metabolism by about 10%.
Other benefits of caffeine can include enhancing
your focus, awareness, energy levels, and feeling
of well being while increasing fat oxidization.
On top of this, caffeine has been associated
with increased strength and endurance while training.
Personally I know I've had my best workouts when
I have a good jolt of caffeine in my system.
Now you can't overdue it though, as this is when
the negative aspects of caffeine can rear it's ugly head.
I find the sweet spot for myself is about 300mg of
caffeine 20 minutes pre-workout. Any more than
this and I tend to get jittery.
I'll almost always include my caffeine in the form
of a pre-workout supplement from Adrenalyn, AAKG, and Beta Alanine,
but caffeine in the form of pills or plain black
coffee work well too.
A cool thing about consuming caffeine in the form
of plain black coffee is that it has a thermogenic
effect in the body meaning it takes more calories
to metabolize the ingredients than what you're consuming.
Anyway, that's your tip for the day!
    
Not your typical bootcamp class!

60 minute group personal training sessions

No repetitive workouts!

Always new exercise combinations

Burn up to 1100 calories per workout

Take your fitness to the next level

Reduce stress and improve well being.

Develop strength, endurance, lean muscle, while improving balance and stability.
Outdoor Fitness classes priced as low as $8 per session
If you would like to come check us out and experience our training style, please come to one of our many San Diego Locations for a FREE Class!
"Take your fat burning machine to the next level." Fast fat loss results in half the time.  This is high octane, small group personal training.  Millionaire results at bargain prices!  Our workouts are constantly varied with functional movements at high intensity.  This is guaranteed to be the finest 60 minutes of your day.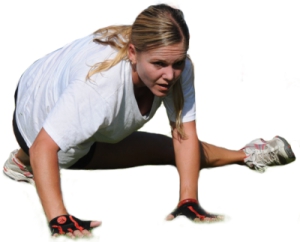 This is your opportunity to choose the person you are in the moment… Your moment to choose who you'll be in the next….Your chance to determine who you will be tomorrow…. 

You're choosing right now! 

One year from now you will wish you started TODAY!