Starting NOV 2017 we will be offering a new class time in a location from our past…  Wired Fitness San Diego has been offering, challenging, intense and fun outdoor personal training groups for the past 16 years.  It's been about 4 years since we help a bootcamp in Liberty Station so help us start this awesome location back up. 
We will be offering the follow in class times to start:
TTH 6-7AM
TTH 9-10AM (or 930-1030AM)
To help us promote this new spot we will be offering new or returning clients 50% OFF their first month.  Bring a friend or more for additional savings! 
Three friends equals your 2nd month FREE.
No Diets!  Only a New Lifestyle and Nutrition Journey
Everyone's macro-micro nutrient requirements are unique, based on their background, preferences and daily activities.  Picking a cookie-cutter diet plan or using a nutrition calculator that doesn't incorporate all of the factors needed for the calculation may be a waste of your time, leave you frustrated, cheating on your meal plan and even falling off the results wagon completely.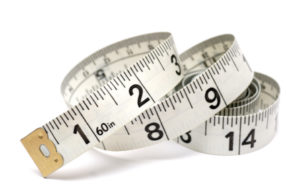 If the scale isn't moving, and you honestly stuck to the macros, measuring your food, etc..  Then you may not be tracking them correctly, or you are over estimating your caloric requirements.   Try weighing your food for more accuracy.  A tablespoon or serving of peanut butter weighs 16g, but if you just measure a heaping Tbsp you may be adding an extra serving or 100 calories every time.   If all of this is on point and you still aren't changing, try adjusting your calories by about 5-10%, and see how it go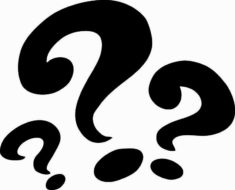 es from there.  
Identify your road blocks and create a nutrition plan to overcome them.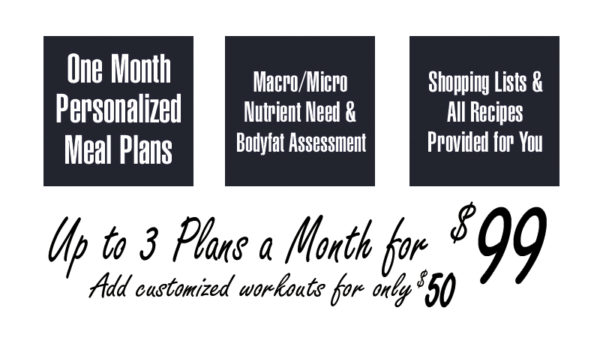 We will be starting Youth Fitness Classes at Mission Bay Park for ages 8-17 on January 14, 2017.  These classes will accomodate ALL levels from beginner to advanced.  Some of the benefits you can expect to recieve for your athletes:
Self-esteem and confidence improvement
Increased agility, speed and coordination
Increases in strength and power
Flexibility improvement preventing injuries
Decrease in body fat and weight maintenance
Sharpened balance
Strengthened core and improved posture
Improved cardiovascular and muscular endurance and function
Ability to concentrate better, improving memory skills and brain function
Heightened sports performance
Adoption of a health lifestyle
These classes will run on Saturday's 9:15AM & Sunday's 9:00AM (start times subject to change)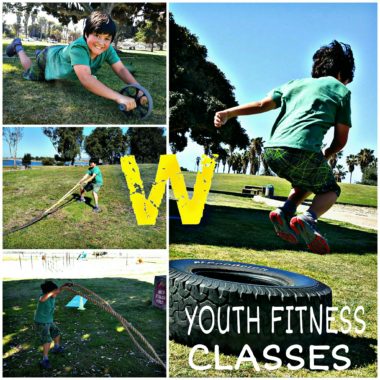 Your instructor for this awesome class and session will be Bryan Schuler.  He holds a Master's Degree in Exercise Science, specializing in performance enhancement and injury prevention.  He also maintains several upper level certifications that will help take your child to new levels of athletics or just get them in better shape while adopting a healthy lifestyle.  See more about your instructor here.
Contact him at 619.843.5157 with any questions or concerns.
Are you ready for a NEW workout spot that will help you blast your unwanted fat?
Come and step out of your comfort zone, push past your limits and experience million dollar results for less than the cost of a couple trips to Starbucks!  Lets have Fun, in a Challenging and Intense environment.
No More Boring Cardio!
No Endless Workouts!
No Equipment Needed!
No Repetitive Workouts!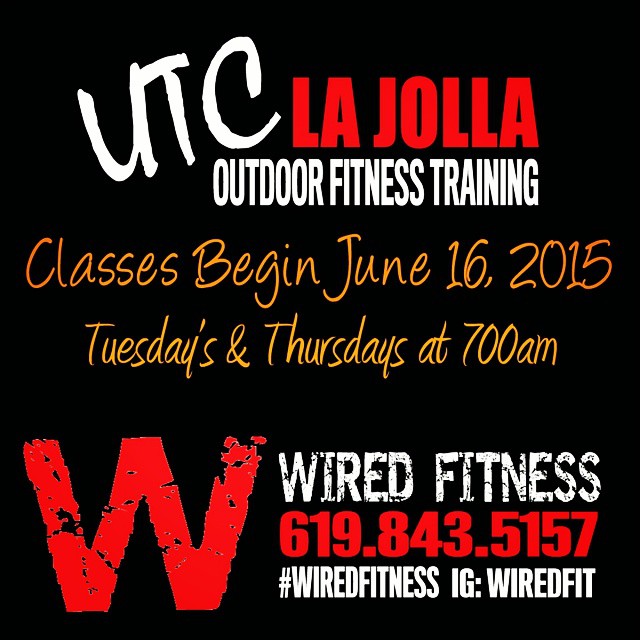 Scheduling
You are required to communicate your preferred schedule at the beginning of each month. You MUST commit to set schedule and then make changes periodically from that. Most class locations are only offered at specific times and days so your options are limited. Other locations may offer several time and day combinations making your scheduling more flexible. If you need more flexibility please let your trainer know your situation so we can accommodate your needs. Communication and schedule changes must be in writing via email, rsvp a Facebook event, text message to your trainer, or a phone call. Classes are subject to availability and a specific class time could be rescheduled, postponed, cancelled or combined with an adjacent time slot based on participation (you will be notified via email by schedulicity, text message, or phone call up to an hour prior to class)
Promotions
FREE Classes or Trial Week: Once a participant activates a free introductory class or week they are not considered a 'New' client any longer. This excludes them from ANY 'Daily Deals' through all online merchants.
'3 AND FREE' Promo: Any client that refers 'Three' NEW clients to Wired Fitness to join our team is entitled to a free month of services. Free intros, trial and daily deals are excluded from this promotion unless a client purchases a package.
Daily Deals: If a client has participated in any Wired Fitness classes through a discount program, free trial, or paid package, they are NOT entitled to purchase a daily deal for themselves (gifts acceptable). Any additional discounts will be given by the trainer or mgmt.
Attendance
In order to get the best results from our program attendance is a must. If you do not work the program the way we lay it out the results you receive will be less than desired.
The classes will be conducted, 'RAIN or SHINE,' and it's up to the trainer to communicate if the conditions are too bad for an effective workout. If the trainer cancels the class due to rain in a specific class location, that session needs to be made up in another location that given month (UNLIMITED packages do not apply to this)
NO CREDITS will be issued for the following month. As you will see below, if you choose not to participate and are unable to make the class up it will reflect as a 'Loss.' This goes for 'Daily Deal' Participants as well. If you RSVP you are attending and no show the class, you will receive a punch on your card for the missed class(es). NO EXCEPTIONS!
Missed Classes & Makeups
If you have to miss a class for any reason, you MUST communicate this prior to the start of the class via email, text, or phone. Communication after the class, or during the class is not acceptable and will reflect as a 'Loss of Session.' Makeup's and class credits are ultimately decided upon by the trainer for that location. Failure to show at your scheduled class time is a 'No Show' and is a total 'Loss of Session.' If you are granted a makeup session, you have 'One Week' to make up that class (you miss Monday's class, you have until next Monday to make that class up). Any long-term medical excuses (2+ classes) need to be followed up with a Doctor's note, no exceptions. There will be NO carry over credits to the next month (or year) unless your trainer specifically stated he/she was giving you a credit for next month. Lastly, there will be NO transfer of credits to another participant.
There will be NO makeup classes for any 'UNLIMITED PACKAGES'
Tardiness
Lateness to class is frowned upon and will ultimately affect your workout and goals. If you are late and class is in session, please make your entrance into the class quiet, without disturbing others. If you are unsure what the workout is for the day get next to someone who was present for the workout discussion/description and follow along until you have an opportunity to ask questions. The trainer WILL NOT stop the class to introduce the exercises and workout to you. This takes away from the class time and the participants that arrived on time.
Billing and Payments
We accept credit cards (Amex/MC/Visa), Paypal, checks, and cash payments MUST be made prior to the start date of the boot camp or before the first class you are attending. The only authorized Wired Staff Members to initiate deals, discounted packages is Bryan Schuler-Owner. Anything discussed with any other staff member is void unless approved in writing or verbally in person by the above mentioned party.  During busy seasons we need to know who is participating in class to avoid over flow. If you are paying by cash or check, PLEASE SECURE THE NEXT MONTHS DUES ON THE LAST DAY OF THE CURRENT MONTH YOU ARE ATTENDING. **Regardless if you have credits or will be out for the first or first few classes. We will close classes if it reaches max levels and if your funds are not in you may have to sit out for that month.
CC Policy: If you are paying by credit card please contact us to make arrangements. Recurring billing will be in effect until changes to your program have been submitted in writing. There will be no refunds unless these procedures are followed. Billing is executed on/before the first of the month (if a Holiday falls around the first Credit Card billing may be executed before the holiday). Please notify the Wired Fitness Staff if you have planned excuses so they can be subtracted from your monthly billing. We will REQUIRE a written 30-Day notice for CC cancellations to ensure you are not over billed.
Refunds & Cancellations: If, after registering, you find you are unable to attend your scheduled camp due to circumstances beyond your control, we can offer you a refund if you notify us prior to your session start date; however, you will be charged a $25.00 cancellation fee. If we are notified after your session begins, we can only provide you a credit toward another boot camp. Credits and refunds are considered by request only and granted solely on our approval case-by-case. Credits are nontransferable. There are no cash refunds. This is a nonnegotiable policy.
There is a $30 service charge for returned checks.
Gift Certificates & Daily Deals: If you received a gift certificate from Wired Fitness directly contact us on how to redeem it for your package. If you received a gift certificate from one of our partners at a discounted 'deal price' these certificates cannot be combined with any other discount offer. They will be applied to our 'PUNCH-CARD PACKAGES,' or our single drop-in class rate ($25 Value). All other programs at Wired Fitness are discounted off of these initial price points and cannot be combined with any other discounts. Contact a Wired Fitness Staff member for further details
Are You Ready for a Challenge?
The below challenge can be done using weight plates, dumbbells, barbells, kettle bells, medicine balls, gallon water bottles or even grocery bags filled with sand.
The lunges are per side
Adjust the #'s based on your fitness level, just keep it progressing by the day.
Challenge yourself and push past your normal limits to achieve the best results.
Let me know if you have any questions.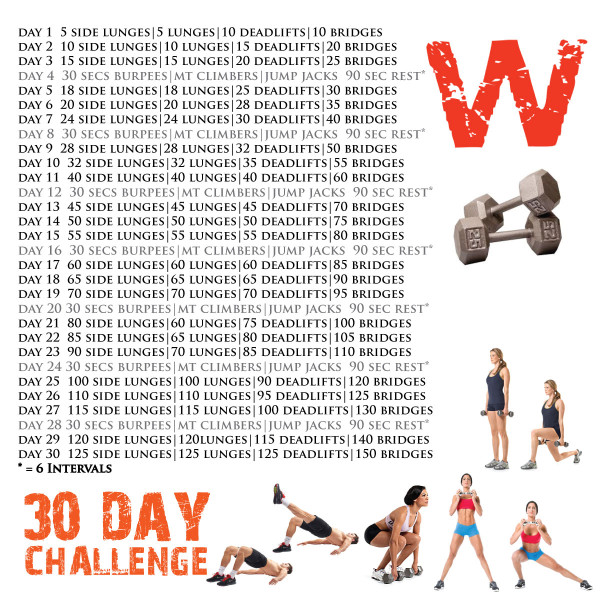 With the aromas of pies and cookies cooking, dishes loaded with butter, sugar, cream and flour, it doesn't make it easy to stay on track with your fitness goals.  If you must partake in these guilty pleasures, please do so in moderation to minimize the guilt from your feast.  Most Americans will consume on

average 1,750 – 4,800 calories

(

3,500 calories = 1lb of fat

) during their feast, so to recover from that you would have to do

'FOUR' back-to-back Bootcamp classes

(

1800- 3500 clories burned

)!!!   Here are the things to avoid if at all possible:
Alcohol:  From 100 calories for a small glass of wine to a whopping 500+ for most sweet mixed cocktails, these are calories that should be avoided.  We won't even talk about stopping the fat metabolism process here, that is for another discussion.
Pies:  Loaded with sugar and more sugar and with some, adding whipped cream and ice cream is just setting you up for diet disaster.  If you have to eat pie, try eating around the crust, and leave all the toppings off.
Bread Stuffing:  White flour and loads of butter (sometimes fatty sausage-meat)?  a knockout punch for disaster…Try leaving the meat out and add some vegetables.  Use a wholegrain or whole wheat bread for half or the whole recipe, and substitute coconut oil for some of the butter.
Sweet Potato Casseroles:   Brown sugar, cinnamon, marshmallows…  Ugh!  An hour of cardio per serving!!!  If you can?  Eat them by themselves with cinnamon so you still get the fiber and vitamins they are rich with.  If you must have marshmallows, add just a few.  Here is a healthy recipe at half the calories.
Mashed Potatoes w/ Gravy:  More butter and more cream…  Another 400+ calories to bust those zippers!   Try using low fat or fat free milk, a small amount of the butter while adding some fat free sour cream to flavor up your dish.