Alcohol in your system is detrimental to any kind of fitness activity (except maybe on the dance floor). Here's how booze wreaks havoc on your regimen.
1. Slower Recovery Hard workouts drain the glycogen stores (carbs stored in the liver and muscles) and leave your muscle tissue in need of repair. "Pouring alcohol into your system as soon as you finish stalls the recovery process," says Tavis Piattoly, R.D. High levels of alcohol displace the carbs, leaving your stores still 50 percent lower than normal even eight hours later, according to one study. Sip or snack on a combo of muscle-repairing protein and carbs (think low-fat chocolate milk or peanut butter on whole-wheat crackers) before tipping back.
2. Packed-On Fat When booze is on board, your body, besides having to deal with the surplus of calories, prioritizes metabolizing the alcohol over burning fat and carbs. Alcohol also breaks down amino acids and stores them as fat. "For some reason this process is most pronounced in the thighs and glutes," says Piattoly. "Excessive alcohol consumption really chews up muscle in those areas." It also increases levels of cortisol (a stress hormone), which further encourages fat storage, particularly in your midsection.
3. Disrupted Sleep Boozing also blows your muscle recovery and performance by sapping your sleep. In a study of 93 men and women, researchers found that alcohol decreased sleep duration and increased wakefulness (particularly in the second half of the night), especially in women, whose sleep time was decreased by more than 30 minutes over the night. "Disrupting the sleep cycle can reduce your human growth hormone output—which builds muscle—by as much as 70 percent," says Piattoly.
4. Depleted Water and Nutrients Alcohol irritates the stomach lining, which can reduce your capacity to absorb nutrients (the reason you have an upset stomach after a few too many), says Brian R. Christie, Ph.D.—not to mention that alcohol makes you pee. For every gram of ethanol you suck down, you pump out 10 milliliters of urine (that's about 9.5 ounces for two beers). As little as 2 percent dehydration hurts endurance performance. And by the way, you can't re-hydrate with a dehydrating drink (e.g., beer).
IS IT REALLY WORTH IT?  Read #2 again :-)….

Do you exercise because you want to lose weight?
Well, if so, Low intensity cardio is NOT the best way to go about burning fat.
 Low intensity workouts are great for building endurance, but they're not the best choice if your goal is weight loss. When your muscles have to continuously contract for 30, 45 or 60 minutes (such as the case for low intensity cardio), that energy has to come from somewhere. The body is stubborn and doesn't want to burn fat for energy so it often times eats up your muscle instead during this type of training.  This immediately kills your metabolism and it robs your body of strength and athleticism.
Why should you care about your muscles?
 Because the more muscle you have, the more calories you burn, even at rest- You have to treat your hard earned muscle like GOLD- As it's what keeps your metabolism revving.  Even if you're goal isn't muscle growth, you need to AVOID losing muscle just for the fat loss benefits alone!  If you lose muscle, you're making it harder to lose weight, not easier.  One of the keys to getting ripped – for girls and guys – is exercising in a way that stimulates your metabolism, even after you've stopped exercising.  
When it comes to cardio, scientific research shows that high intensity cardio is significantly more effective than low intensity cardio.
Why?
High intensity cardio forces your body to keep burning fat and calories after you stop training.  Think about this for a second.  If you do low intensity cardio, you'll burn calories ONLY during exercise.  When you stop exercising, you stop burning calories.  But imagine this…
Even AFTER you've stopped exercising, your body burns fat. You could be sitting on the couch, watching TV, and your body would still be burning fat and getting you lean.  That's what happens when you do high intensity cardio.  Instead of jogging, walking or swimming for 30 to 45 minutes, do high intensity cardio.
Do short, quick circuits of body weight exercises such as jumping jacks or burpees, similar to how we put together your Bootcamp workouts.  For example, do burpees for 20 seconds, then take a 10 second rest.  Repeat the circuit 8 times.
Now – there's important lesson coming up.  It's about a Fat Loss Myth – "Just eat less and you'll lose weight." Unfortunately, it's not that simple.In fact, this advice can be downright harmful.  Cutting calories is NOT the way to lose weight.
In a few days, you'll find out why……
Caffeine tends to get a bit of a bad rap
that is hardly warranted when used properly.
Studies show consuming approximately
200mg of caffeine pre-workout can increase
the number of calories you burn by increasing
your metabolism by about 10%.
Other benefits of caffeine can include enhancing
your focus, awareness, energy levels, and feeling
of well being while increasing fat oxidization.
On top of this, caffeine has been associated
with increased strength and endurance while training.
Personally I know I've had my best workouts when
I have a good jolt of caffeine in my system.
Now you can't overdue it though, as this is when
the negative aspects of caffeine can rear it's ugly head.
I find the sweet spot for myself is about 300mg of
caffeine 20 minutes pre-workout. Any more than
this and I tend to get jittery.
I'll almost always include my caffeine in the form
of a pre-workout supplement from Adrenalyn, AAKG, and Beta Alanine,
but caffeine in the form of pills or plain black
coffee work well too.
A cool thing about consuming caffeine in the form
of plain black coffee is that it has a thermogenic
effect in the body meaning it takes more calories
to metabolize the ingredients than what you're consuming.
Anyway, that's your tip for the day!

Fat Gripz are being used by thousands of athletes and military around the world, including members of the US Special Forces, teams in the NFL/MLB/NHL, top MMA fighters and top bodybuilders
Thick bar training with Fat Gripz immediately targets your body's weak links – increasing muscle activation and giving you more strength and mass (see how below)
Fat Gripz fit virtually all barbells, dumbbells, chin-up bars and cable attachments in seconds – making the bar more than twice as thick to help you get big arms
Made from a military-grade high-density compound, they grip the bar like a clamp and don't compress – even when deadlifting extreme loads
Immediate Impact Guarantee: You must feel the impact in your first workout or we'll give you a full and immediate refund – no questions (we'll even pay for shipping)
1) Why Your Body Is Only As Strong As Its Weakest Link

Discover how your grip and forearms may be
holding back your whole body
.
Read more…
2) How Fat Gripz Can Unlock Massive Increases In Your Strength And Mass An Help You Get Big Arms
… without the huge cost of buying thick barbells and dumbbells. Read more…
3) Using Fat Gripz: No New Exercises, No More Time In The Gym – Just Effective Training
Add Fat Gripz to your existing training and you'll feel the difference in the very first workout. Read more…
4) Who Fat Gripz Are For: See What The US Special Forces, MMA Fighters And Athletes Are Saying
Fat Gripz work with your existing programme and deliver real-world results – whether you're a bodybuilder, Olympic lifter, MMA fighter or athlete. Read more…
5) "But Can't I Just Wrap A Towel Around The Bar?" And Other Common Questions
Find out why the military-grade compound in Fat Gripz is more effective, more practical and safer than wrapping a towel or foam around the bar. Read more…
6) Buying Fat Gripz: Feel The Difference In Your First Workout
We guarantee you'll feel the difference immediately – and you'll see the difference within weeks. Read more…
Researchers recently found, using data gathered from the Framingham Heart Study, that study participants who followed a diet consistent with the recommended dietary guidelines and exercised regularly had less abdominal fat.
The study, which was published in Diabetes Care, followed 2,926 adults who underwent CT scans to measure abdominal fat. Exercise and healthy eating weren't the only lifestyle factors that impacts abdominal fat. The study found that smokers had higher levels of VAT (a deep layer of fat that surrounds the abdominal organs and is linked with metabolic risk factors).
In addition, men whose lifestyle includes consuming higher amounts of alcohol had higher volume of this abdominal fat (VAT) .
While the idea that lifestyle impacts abdominal fat is nothing new, the specific type of abdominal fat that is increased by these lifestyle choices seems to be more harmful than previously thought. Authors concluded the volume of dangerous VAT can be significantly reduced when more healthy habits are adopted.
Back in the bad old hunter-gatherer days, the human species got a lot of use out of the hormone cortisol. That's the stress hormone activated during the fight-or-flight response, causing our blood pressure to rise and heart rate to increase.
Throw in a little adrenaline and these useful, even essential, physical adjustments made it possible for our forebears to do things like battle marauding tigers on a moment's notice, or scoop up their offspring and flee from raging wildfire.
But in the modern world, there's little need to either fight or flee, yet the cortisol release remains functional in the species, only now, it's activated in response to the stressors of modern society-bad traffic, malfunctioning machinery, domestic discord-rather than natural perils or challenges to survival.
There are some real downsides to this artifact of our rugged past. Research indicates that cortisol is also associated with abdominal fat production. And without the physical release demanded by, say, wrangling an enraged wildebeest, cortisol seems to end up accelerating abdominal fat production.
For virtually anyone, this can lead to higher cholesterol levels, blood sugar levels and elevated blood pressure, all factors for heart disease. But people who are genetically prone to holding their fat stores around the middle are especially susceptible, which makes this a bigger concern for these apple-shaped people than it is for those pear-shaped individuals who tend to carry their extra on the hips and thighs.
And there is other research that shows that abdominal fat retention–distinct from lower-body fat retention–causes specific, recognizable chemical changes in the body that can ultimately lead to lowered metabolism and symptomatic cravings for sweets.
In this way, abdominal fat retention can lead to ever more weight gain, putting overweight people with a predisposition to the apple shape at a much elevated risk for disease. Add a stressful lifestyle and excess cortisol production to those factors, and you have a time-tested recipe for a heart attack.
Free pre-screening passes to ALL that attend!  Free swag to winners of some strength contests and endurance drills we have after class.  PLUS++  The class is FREE that day so make sure you RSVP by clicking Schedule on our website, Facebook Page, or on your smartphone using the 'Schedulicity' app.  ONLY 50 spots available that day!!
Body Weight Tabata


4-6 Rounds
20 sec Speed Squats
10 sec rest
20 sec Burpees
10 sec rest
20 sec Mountain Climbers (keep neutral spine)
10 sec
20 sec Speed Skips (in place) (lift knee above hip)
10 sec rest
20 sec Speed Squats
10 sec rest
20 sec Burpees
10 sec rest
20 sec Mountain Climbers (keep neutral spine)
10 sec
20 sec Speed Skips (in place) (lift knee above hip)
20 Bulgarian Squats (10 each leg)
20 Deep Squats
20 Walking Lunges (10 each leg)
20 Wall Hops 

10 Pull Ups or Reclined-Pulls or 20 Band Rows
15 Tricep Bench Dips
20 Thumb Up 'X' Supermans
15 Wide-Close-Diamond Pushups
30 Second Plank
3 Rounds, fast tempo with good form!  After 1st round, perform 60 Mt. Climbers.  Upon completion of the 2nd round, 30 Sumo Jacks.  Finally at the completion of round 3 push to complete 30 Squat Thrust Jumps.  This is a great 30-minute Fat Blast!
We sell a 5 Set Resistance Band Set for sale for $25 (comes with door anchor and carry bag)
The Burpee!
Here is a great article written by BJ Gaddour…..
There was a time when Mike Tyson was the baddest man on the planet. Everything about the former heavyweight champion of the world was intimidating: the way he dressed in all black shorts without the traditional robe of his competitors, the way he used to rock his head side to side back and forth like he had mental problems, and the way he came into the ring all sweaty and lathered up like a caged beast ready for battle. Without a doubt, Iron Mike used to win his fights before they even started.
Look no further than his world famous ring entrance to the Tyson vs. Spinks fight, arguably the most intimidating entrance in Boxing history:
As you can see in that video, Spinks looked like he was about to soil his pants.
In the world of fitness, if there's one exercise that could rival Tyson's reign of terror in his prime, it would have to be the burpee. In fact, whenever my campers or clients hear that burpees are on the agenda for a given workout, they take a deep breath, a heavy gulp, and seemingly pray to the Gods in an attempt to summon the courage to get through the hellfire coming their way.
The burpee is the baddest exercise on the planet and an incredible whole body muscle-builder, fat-burner, and metabolism-booster that will also make you more athletic for sport. The movement finds its roots through the work of American physiologist Royal H. Burpee in the 1930's, who developed the burpee test as a quick and easy way to assess total body fitness. The exercise continued to gain popularity through widespread military use and of course as the calisthenic of choice in gym classes and athletic practices worldwide.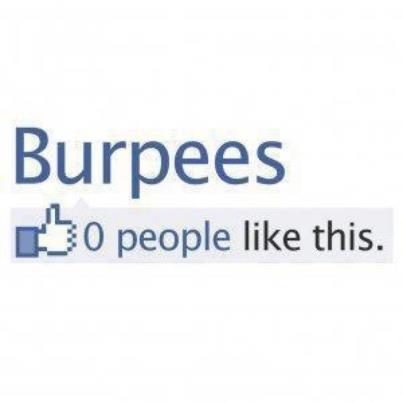 The burpee basically describes a series of smooth and fluid movements that have you going from a full stand to a push-up position and back. It's no wonder this whole body up and down movement is a metabolic nightmare involving nearly every muscle from head to toe. But, it's also the most bastardized exercise on the planet that can implode your knees and back like a stiff and solid Mike Tyson upper cut.
First of all, performing this exercise with close feet often results in a lot of extra pressure on the knees and back during the transitioning crouched position between the stand and the push-up. The lower back will tend to excessively flex leading to an increase risk of chronic lower back pain in the short run and herniated or bulging disks in the long run. Plus, squatting on your toes increases the sheer force on your knee caps leading to patella-femoral issues like patellar tendonitis (runner or jumper's knee) in the short run and arthritic knees that need to be replaced in the long run.
What's especially concerning is the fact that burpees are often improperly performed for a high number of reps with short, incomplete rest periods (resting less than you're working). Think about it- multiply bad form by lots of reps by excessive fatigue and you've got an exercise that will break you, both literally and figuratively.
Luckily for you, I'm about to show you how to properly perform the burpee and make some instant modifications that will immediately boost performance and reduce the risk of injury from this classic total body builder. Plus, I've provided you with both a customized exercise selection and a companion 10-minute burpee bootcamp workout you can do anytime, anywhere based on your current fitness level.
The result will be a more refined burpee routine that very well may break your heart, mind, and soul, but not your body. That we'll leave to Mr. Tyson.
Burpee Bootcamp
Phase I- Beginners: I haven't worked out in 6 months or more, I am more than 20 lbs above my ideal body weight, and I lack mobility in my ankles, hips, and upper back.
Burpees are best performed by beginners, and on a regular basis in my opinion, with a wide sumo-style stance. This makes it easier to stay on your heels throughout the exercise which both takes pressure off of your knees and helps you better engage your powerful glute muscles. The wider stance also makes it easier to move at the hips without moving at your lumbar spine, something that will better engage your core stabilizers beyond alleviating nagging lower back pain.
That being said, the fact remains that the modern, mobile consumer spends the vast majority of the day as a desk jockey in rounded, hunched, almost fetal-like positions. This leads to poor posture and limited mobility of the ankles, hips, and upper back that requires further correction for optimal burpee performance. Here are two ways we can quickly do this:
1.) Use a stable box, bench, or aerobic step with adjustable risers to perform your wide stance sumo-style burpees as show in the video below:
This adjustable aerobic step set-up allows you to seamlessly adjust the range of motion as needed. Plus, I particularly like using an elevated surface for higher reps because it's easier to maintain form in a state of fatigue. Also notice the progression of moving from one leg to two legs at a time in the down position.
2.) Regularly perform the 3 stretches shown in the video below pre/post-workout to open up your ankles, hips and upper back:
Perform each stretch for 30-60 seconds at a time and doing them during your rest periods is smart way to save time and accelerate your flexibility gains.
Now that we covered all that, here's your beginner burpee bootcamp workout: alternate between 60 seconds of work and 60 seconds of rest for 5 total rounds for a 10-minute total body workout.
Phase II – Intermediate: I have been working out regularly for the last 3 to 6 months and I'm about 10 lbs above my ideal body weight.
Once you can successfully complete the beginner burpee workout pain-free, we can safely get a little nasty with it. The great thing about the burpee is it offers an endless number of challenging exercise variations that keep your training fun and fresh. You can perform on one-arm or one-leg, integrate dumbbells, or even add jumps. The video below shows some great high-intensity exercise examples:
Choose one of the variations shown in the video above (or alternate between each of them from round to round) using a 60 seconds on, 30 seconds off interval sequence for up to 6 total rounds. The combination of a more advanced exercise selection plus reduced rest periods will drastically increase the calorie burn and will blow-torch belly fat fast.
Phase III – Advanced: I have been working out regularly for over a year I'm within +/- 5 lbs of my ideal body weight.
Now it's time to get real. If you've never used the TRX Suspension Trainer before, then you're seriously missing out! It's the advanced body weight training tool of some of the best athletes around like Super Bowl MVP quarterback Drew Brees of the New Orleans Saints and it's basically a portable gym in a bag.
What's so unique about the TRX is that it places your body in a suspended environment which not only forces your body to engage and activate more muscles (particularly your core) but also activates your fight or flight response, something that's proven through research to accelerate metabolism and speed up fat loss.
What's the best part? The TRX also serves us up several ways to put the burpee on steroids as show in the video below:
For an incredible 10-minute TRX burpee bootcamp challenge workout, alternate between 60 seconds of work and 15 seconds of rest for each exercise in the order shown in the video above being sure to switch sides from round to round. Perform 8 total rounds.
Whether you're looking for a minimalist's approach to exercise or a cool way to mix up a stale training routine, look no further than the burpee. Just be sure to respect the process and do it right.