Omega-6 vs. Omega-3: Who Cares?
You've heard the scary truth. The omega-6 to omega-3 ratio in the typical North American diet is so heavily skewed towards omega-6 (10:1 or even 20:1) that many of us are just dead men (and women) walking.
Too much omega-6 versus omega-3 leads to catastrophic levels of systemic inflammation that lights your joints on fire and makes you fat, and all but ensures you receive an early visit from the Grim Reaper in the form of heart disease.
It's a good old-fashioned bedtime scary story. But that's all it is – a story.
The Most Famous Nutritional Bedtime Story
Similar to how Robert Southey published "Goldie Locks and the Three Bears" as a means of helping parents teach their children about respecting peoples' privacy and property, the omega-6/omega-3 ratio has been used as a means of scaring people away from cakes, cookies, pies, and other highly-processed gut expanding products.
While I agree many people need to step away from the dessert table, there are lots of valid reasons to do so that actually impact human physiology.
Omega-6 Fats and Inflammation
In a previous article I covered the biochemical basis of how omega-6 fats such as linoleic acid and arachidonic are converted into pro-inflammatory compounds. You should read that article first and then come back. Don't worry, I'll wait.
As noted in the article, eating more omega-6 fats can actually be anti-inflammatory – especially if we're talking about gamma-linolenic acid (GLA). That's big hiccup number one for the omega-6/omega-3 ratio fear mongering – omega-6 fats aren't automatically pro-inflammatory.
Biochemistry Textbooks Versus Your Body
The next area that we need to look at concerning the omega-6/omega-3 ratio is the disconnect between textbooks and your body. Biochemistry textbooks paint the picture that the conversion of omega-3 and omega-6 fatty acids is very simple and straightforward. Well, I'm here to tell you that it isn't.
Real life biochemistry is messy, regulated, controlled, inhibited, and compartmentalized.
In other words, when you eat a handful of walnuts, the linoleic acid in them doesn't automatically transport to the body's "inflammation factory" and get turned into a highly inflammatory, physique destroying prostaglandin – it doesn't work that way.
For linoleic acid to be used for inflammatory purposes it needs to be converted to arachidonic acid. However, what may surprise you is that linoleic acid, even when eaten in high amounts like Americans typically do, isn't converted to arachidonic acid. In reality, most of the linoleic acid (the major omega-6 fat in the diet) you eat doesn't even travel to your body's inflammatory pathways.
A lengthy 2011 review published in Nutrition & Metabolism entitled "Increasing dietary linoleic acid does not increase tissue arachidonic acid content in adults consuming Western-type diets: a systematic review", concluded that there's "no evidence to suggest that changes in dietary linoleic will modify tissue arachidonic acid content in an adult population consuming a Western-type diet." A Western diet is a good model in this situation as it's high in linoleic acid.
Dietary Advice Relevant to You
Most mainstream dieting advice just isn't relevant to you. You're not going to eat "3 squares a day" loaded with grains and devoid of protein. You avoid mayonnaise and food loaded with corn, safflower, and soybean oil. Data about the null effects of a high linoleic acid diet doesn't impress you, as you don't eat that stuff anyway. You eat a carb controlled diet heavy on eggs, vegetables, and a variety of yummy animals.
In your case, the pseudo negative effects of linoleic acid aren't an issue. Arachidonic acid, on the other hand, potentially is. With arachidonic acid, no conversion to another fatty acid is required – it just needs to be inserted into your cell membranes and it's ready to use.
The good news is your body may have you covered. Research from the University of Connecticut published in a 2010 issue of Lipids showed that there was an increase in membrane arachidonic acid levels with a low carbohydrate diet that included higher levels of arachidonic acid, but that this enrichment in membrane arachidonic acid levels didn't lead to increases in pro-inflammatory arachidonic acid metabolites.
The authors suggested that based on the findings of this study and other studies that low carbohydrate diets can actually preserve arachidonic acid membrane levels.
Get on the Fatty Acid Offensive
So if modulating your omega-6 fats through your diet to reduce inflammation (unless we're talking about GLA) is a waste of your time, what can we do instead?
Number one is to go on the offensive with fish oil. Increases in dietary EPA and DHA lead to increases in EPA and DHA levels in your membranes. Dr. Bill Harris refers to the percentage of fatty acids in your red blood cells that are EPA and DHA as the Omega-3 Index. It's a robust marker of health and it shows the direct changes of increased EPA and DHA intakes on biochemically areas relevant to inflammation.
Think of it this way: your cell membranes are full of with omega-3 and omega-6 fats. When it comes time to create eicosanoids (pro- or anti-inflammatory molecules), a fatty acid will get clipped from the cell membrane and then get converted.
So the more omega-3 fats that you can pack into your membrane, the greater the probability that an omega-3 fat will be picked and clipped, which leads to the formation of anti-inflammatory (or at worst inflammatory neutral) compounds. This is why the absolute amount of omega-3s in your cell membranes is what really matters.
That's right. The all-important ratio of omega-6s to omega-3s in your diet doesn't translate to your cellular membranes, the very place where the inflammatory weaponry is forged. And eating a diet relatively high in linoleic acid doesn't lead to changes in arachidonic acid levels, at least not in ones that translate into increased inflammation.
What matters is the total amount of long chain omega-3 fats (EPA and DHA) in your diet.Focus on this for a good 15 seconds each day and you'll be all set.
The Bottom Line
Stop wasting your time tabulating the ratio of two subclasses of fatty acids that don't really matter in the grand scheme of things. You're not an average American – and except for walnuts and the occasional teaspoon of toasted sesame seed oil in a stir fry, you wouldn't even look twice at any of the top 25 sources of omega-6 fats in the typical diet or the foods that they're found in.
And even if you did eat a ton of walnuts and did daily shots of sesame seed oil, dietary linoleic acid does not readily find its way down the biochemical conversion pathways to be turned into pro-inflammatory compounds.
So eat clean!
Baked Butternut Squash with Apples
Ingredients:
2 tablespoons butter
1/2 teaspoon ground cinnamon
1/4 teaspoon ground nutmeg
1 1/2 lb butternut squash, peeled, seeded and cut into 1/2-inch cubes (about 5 cups)
2 to 3 large Granny Smith apples, cored, cut into 1/2-inch cubes (4 cups)
1/4 cup real maple or gluten-free maple-flavored syrup
1 tablespoon balsamic vinegar
1/4 cup chopped pecans, toasted*
Preparation Instructions:
Heat oven to 375°F. Place butter in 13×9-inch (3-quart) glass baking dish; heat in oven 5 to 7 minutes or until melted.
Stir cinnamon and nutmeg into melted butter. Add squash; toss to coat. Cover with foil; bake 20 minutes. Meanwhile, in large bowl, mix apples, syrup and vinegar.
Pour apple mixture over squash. Cover; bake 10 minutes. Stir; bake 5 to 10 minutes longer or until squash is tender. Stir before serving and sprinkle with pecans.
Nutrition Information
1 Serving
Amount Per Serving
Calories: 100
Calories from Fat: 35
Total Fat: 3 1/2g
Saturated Fat: 1 1/2g
Carbohydrate Choice: 1
Cholesterol: 5mg
Fat: 1/2
Other Carbohydrate: 1/2
Sodium: 15mg
Starch: 1/2
Total Carbohydrate: 17g
Dietary Fiber: 1g
Protein: 1g
Sugars: 11g
Vegetables: 1/4c
Percent Daily Value* (include footnote *Percent Daily Value are based on a 2,000 calorie diet.) Within the % Daily Values, nutrient information should be included for Vitamin A, Vitamin C, Calcium and Iron.
Grilled Argentine Steak Salad
Ingredients:
Spicy Garlic Salsa
1/4 cup olive or vegetable oil
2 tablespoons chopped fresh parsley
3 tablespoons red wine vinegar
1 tablespoon lemon juice
1 teaspoon chopped fresh or 1/2 teaspoon dried oregano leaves
1/2 teaspoon crushed red pepper
2 cloves garlic, finely chopped
Salad
2 medium green onions, thinly sliced (2 tablespoons)
2 large plum (Roma) tomatoes, chopped
1 lb boneless beef sirloin steak, 1 to 1 1/2 inches thick
1 large red or yellow bell pepper
1/4 teaspoon salt
1/8 teaspoon pepper
6 cups bite-size pieces salad greens
1 cup sliced fresh mushrooms (3 oz)
Preparation Instructions:
In tightly covered container, shake all salsa ingredients until well blended. Reserve 1/4 cup salsa. Stir onions and tomatoes into remaining salsa; set aside.
Heat coals or gas grill for direct heat. Place steak and bell pepper on grill rack. Cover and grill over medium heat 15 to 20 minutes, turning bell pepper frequently and beef once, until desired doneness.
Sprinkle beef with salt and pepper. Cut beef into 1/4-inch slices. In medium bowl, mix beef and reserved 1/4 cup salsa. Cut bell pepper into strips.
In large serving bowl, place salad greens, bell pepper, mushrooms and beef. Add remaining salsa with onions and tomatoes; toss to mix.
Nutrition Information
1 Serving
Amount Per Serving
Calories: 190
Calories from Fat: 110
Total Fat: 12 g
Saturated Fat: 2 g
Cholesterol: 40 mg
Fat: 1
Lean Meat: 2
Sodium: 150 mg
Total Carbohydrate: 6 g
Dietary Fiber: 2 g
Protein: 17 g
Vegetable: 1
Percent Daily Value* (include footnote *Percent Daily Value are based on a 2,000 calorie diet.) Within the % Daily Values, nutrient information should be included for Vitamin A, Vitamin C, Calcium and Iron.
Gluten Free Lime and Chili Rubbed Chicken Breasts
Ingredients:
2 teaspoons chili powder
2 teaspoons packed brown sugar
2 teaspoons grated lime peel
1/2 teaspoon salt
1/4 teaspoon garlic powder
1/8 teaspoon ground red pepper (cayenne)
4 boneless skinless chicken breasts (about 1 1/4 lb)
2 teaspoons olive or canola oil
Preparation Instructions:
Heat gas or charcoal grill. In small bowl, mix chili powder, brown sugar, lime peel, salt, garlic powder and ground red pepper. Rub both sides of chicken with oil, then with spice mixture.
Place chicken on grill over medium heat. Cover grill; cook 10 to 15 minutes, turning once or twice, until juice of chicken is clear when center of thickest part is cut (170°F).
Nutrition Information
1 Serving
Amount Per Serving
Calories: 200
Calories from Fat: 60
Total Fat: 7g
Saturated Fat: 1 1/2g
Cholesterol: 85mg
Fat: 1
Very Lean Meat: 4 1/2
Sodium: 390mg
Total Carbohydrate: 3g
Protein: 31g
Sugars: 2g
Fats & Oils: 1tsp
Meat & Beans: 4oz-eq
Percent Daily Value* (include footnote *Percent Daily Value are based on a 2,000 calorie diet.) Within the % Daily Values, nutrient information should be included for Vitamin A, Vitamin C, Calcium and Iron.
Fusilli with Bacon, Spinach & Tomato
Fusilli with Bacon, Spinach, & Tomato
Ingredients
Kosher salt for pasta water
1/2 pound (8 ounces) bacon, chopped
1 medium onion, chopped
2 cloves garlic, smashed (with the flat side of a large knife) and peeled
1 package (10 ounces) chopped spinach, thawed and drained completely dry
1 can (28 ounces) whole peeled tomatoes, chopped
1 pound (16 ounces) gluten-free fusilli (or other short, fat pasta)
1/2 stick (4 tablespoons) unsalted butter
1. Set a large pot of water to boil, and salt it liberally with kosher salt.
2. While the water is boiling, in a large sauté pan over medium-high heat, cook the bacon until most of its fat is rendered (about 5 to 7 minutes), stirring frequently.  Add the onion and garlic, and cook, still stirring frequently, until the onion is translucent and the garlic is soft and fragrant (about 5 to 7 minutes more). If you're not a big fan of garlic, remove and discard the smashed cloves.  They've done their job.  Add the spinach and tomatoes, and stir to combine well.
3. When the water boils, cook the pasta according to package directions, and then drain it, leave a bit of the pasta water behind with the pasta.  Add the butter to the hot pasta, and toss until the butter melts. Add the pasta to the bacon-spinach-tomato mixture, and toss gently to combine everything in a large bowl.
Serve immediately.  This recipe makes 4 servings.
Starbucks-style Vanilla Almond Biscotti
by: NICOLE
These biscotti are un-Americanized. No butter or other added fat. Just eggs. So they're not at all chewy. Instead they have this super nice crunch, and taste best if you dunk them in your favorite cup of coffee (which for me just isn't Starbucks unless you're talking about an Egg Nog Latte and then I'm all yours). I shall not engage in taunting of the American Way. I don't consider this more classic style of biscotti to be better, necessarily. Just, well, different. As language evolves, so does food. We brought biscotti here, and we added butter. No biggie. Right?
I baked these using yesterday's Better Than Cup4Cup Flour Blend. Boy oh boy were you guys all exercised over that flour blend. It's a very emotional issue! Everyone thinks their way is the best. The BEST! I think there are just lots of bests. Lucky us!
In this recipe, I really enjoy the lightness of yesterday's blend. But you could use any of the other gluten-free flour blends that I recommend. It's mostly a matter of taste. No right, and no wrong.
This bakes up so pretty. Pretty little thing.
Slice it on the bias. That's just a 45° angle, for fanciness.
Then line 'em up.
And crisp on both sides. Remember to dunk. It's what completes this sort of classic biscotti. And you're what completes me—especially when you get all worked up about flour!
Prep time: 10 minutes       Cook time: 40 minutes       Yield: 10 to 12 cookies
Ingredients
1 1/2 cups (210 g) Better Than Cup4Cup Gluten Free Flour (or your favorite high-quality all-purpose gluten-free flour blend, including 1/2 teaspoon xanthan gum)
1 teaspoon baking powder
1/4 teaspoon kosher salt
1/2 cup (100 g) sugar
3/4 cup (84 g) raw almonds, chopped finely
2 extra-large eggs (120 g, out of shell) at room temperature, beaten
2 teaspoons pure vanilla extract
1 teaspoon almond extract
Directions
Preheat your oven to 350°F. Line a rimmed baking sheet with unbleached parchment paper and set it aside.
In a large bowl, place the flour blend (including xanthan gum), baking powder, salt and sugar, and whisk to combine well. Add the chopped almonds, and mix to combine. Add the eggs, vanilla extract and almond extract, and mix to combine well. The dough will be thick and sticky. If necessary to bring it together, knead the dough with wet hands until smooth.
Place the dough in the center of the prepared baking sheet, and shape with wet hands into a loaf that is approximately 7 inches long x 3 inches wide x 1 inch thick. Place in the center of the preheated oven and bake until lightly golden brown and firm to the touch, about 20 minutes. Remove from the oven and allow the loaf to cool for at least 10 minutes, or until only slightly warm to the touch. Lower the oven temperature to 300°F.
Slice the loaf in cross-section on the bias into 10 to 12 pieces, each about 1/4 inch thick. Place the pieces back on the prepared baking sheet, flat and spaced about 1 inch apart. Return the baking sheet to the oven and bake for 10 minutes. Flip each of the cookies over on the baking sheet, return to the oven and finish baking until the underside of the cookies is lightly golden brown (about another 10 minutes – less if you want less crunchy cookies). Remove from the oven and allow to cool to room temperature before serving. The cookies will crisp as they cool.
Store biscotti at room temperature in an airtight container for 2 days. Freeze any leftovers tightly wrapped in a freezer-safe container.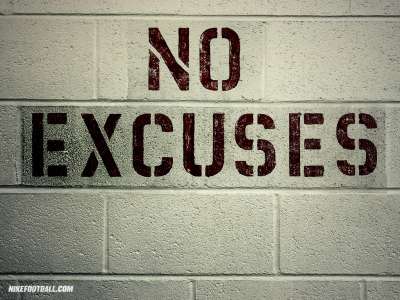 The dog ate my homework, the check is in the mail, and I was late because I missed the bus, these are all great excuses many people have used throughout out their lives and unfortunately they have now become very cliché. So how does this equate to training and leading a healthy life style? The same people who have used such excuses in other parts of their lives will continue to do so when it comes to their health, however in these instances the only person they are lying to is themselves. So when we hear a person who is obviously overweight, stuffing a few KrispyKreme doughnuts into their mouth while explaining how they are too tired to work out, or they don't have the time or even that they just got a manicure, remember that old Yiddish Proverb, "if you don't want to do something, one excuse is as good as another."
Just because we justify the reasons that we are not as fit or healthy as we would like to be does not make us a bad person. It's just that if we record all of our excuses and play them back; we would be horrified to see how frequently we justify the reasons for not doing something about it. Our friends and family are probably tired of our constant complaining about it as well. So what do we do? You don't like the way you look or feel and you know that you are the only one that can change it, but how to start?
Normally, I would begin telling you that the hard part is recognizing that you need to change things up, but I am pretty darn sure that you already know that, you need to take action, not merely think about it. The first step is to remember that there are no excuses, if you want to get healthy than you have to work at it. You got yourself into poor shape so it's up to you to fix it. The main excuse that I used to make use of was that I'm too tired to workout, well of course I was too tired to train, I was in such lousy shape that just getting out of bed left me winded. Then I'd begin my walking regime and quit because it became too difficult. The journey of a thousand miles begins with the first step.  Do what you can at the beginning, this does not mean don't push yourself, it merely means push yourself to what you feel is a safe limit, for now. In time the speed and distances will become greater, and so will your overall health. When the excess weight is gone the tired feeling will most likely be gone as well. If not, then consult a doctor (best before beginning any training routine) to ensure that there is not some overriding medical issues causing you discomfort.
One common misconception is that our journey to achieve health and well being starts with getting out of bed in the morning with a goal aimed to get our bodies in shape. Although this definitely an important part of the process, it does not begin here. The process starts in your head as a psychological battle between taking charge of your life and moving forward, or just being complacent and taking what scraps are tossed at you. In the immortal words of the philosopher Albert Einstein, "nothing happens until something moves." This is especially true when it come to a healthy lifestyle. You need to not just think about what you want to accomplish, but to then take that thought in your head and create an action plan, then put that plan into motion. Remove the obstacles that you place in front of yourself. Trying, just won't do as it infers the possibility of failure, this is your life, and you cannot fail!
Look, not everything in life in easy and some people will fail, however if you ever took the time to think about things, it seems to be the same people that fail over and over in most things of any significance, like their health and careers. The good news is this pattern can be broken. It just takes some fortitude and a willingness to understand that you did not fall into this state overnight and that it could take time to reverse the process.
People will tell you not to give up, and that they are pulling for you, but the bottom line is that you have to make the decision to change your life and go for it, removing all speed bumps in the way. This may include people too, as you need to surround yourself with positive thinking people who will not tell you what you want to hear unless you actually deserve it. You need to hold yourself accountable for your life and make those changes that get you to where you want and need to go. It's tough, at times you'll want to quit, but the end result is a long lifetime of health and hopefully happiness.
Dry Ingredients
1/4 cup quinoa flour
1tbsp ground flaxmeal
10g shelled pumpkin seeds
1tsp baking soda
1tsp cinnamon
1 packet Truvia sweetener

Wet Ingredients
3/4 cup liquid egg whites
1/2 green zucchini shredded
1tsp cinnamon honey
10 red grapes, halved
1tsp almond extract
Directions
1. Preheat the oven to 375
2. Mix all dry ingredients in a bowl
3. Add wet ingredients and stir
4. Spray a small glass pan with coconut oil spray
5. Pour ingredients into pan
6. Bake for 25-30 minutes or until firm in center
7. Top with melted raspberries or your favorite topping if desired.
Makes one serving without the toppings
368 calories
27g protein
35g carbohydrates
6g fat
What are Carbs?
Carbohydrates form the basis of a healthy diet, providing an excellent source of nutrients and antioxidants. Recommendations on dietary intake can allow you to take advantage of cycling carbs in your diet. You may choose to increase carb intake for performance. You can also modify your carb intake for the best health value. If you are diabetic, discuss your diet with your doctor or dietician because of possible impacts on your blood sugar.
What is Carb Cycling?
Carb Cycling is a low/no-carbohydrate diet with intermittent periods of high or moderate carbohydrate consumption; basically you are cycling your carbohydrates to achieve a desired result. There is a common misconception that consuming low carbs everyday for months at a time is good for them. Low-carb diets are meant to be temporary diets because they deplete your energy and strength and you end up losing muscle. You simply cannot eat that way forever. Your body needs carbs for daily functions.
There are plenty of individuals, even professionals that promote high carb diets. While they do assist in speeding your metabolism, they are not the best for solution weight-loss or reduction of body fat as there is not a sufficient deficit to help you shed the pounds.
This is where carb-cycling comes in. Carb cycling is an in between Zig Zag type method that will give you the benefits of both a low and high carb diet which allows you to hold on to the muscle you already have and shed body fat. This type of diet will also help you maintain your sanity, strength, and endurance through the entirety of your program.
Carb cycling works by giving your body the fuel it needs to increase your metabolism and create a calorie deficit to increase fat loss. Days are rotated between high-carb days and low/moderate-carb days and in some cases no carb days.
There are typically three types of days when carb cycling- Notice some will not go "NO carbs" but instead follow a low to moderate and then high rotation.
High Carb
Low/moderate Carb
No/low Carb Days
Generally, if you do three days the three days are rotated, or cycled, equally, but there are many ways people set up a carb cycle. You can also do low/high or low moderate high.
Protein is the foundation of a carb cycling diet.  Assuming you are eating six meals each day, regardless of which type of day, you will eat a minimum of 1/5, 1/6, or 1/7 of your total daily minimum requirement for protein at each meal.
Example: If you are taking in 1 gram of protein per pound of bodyweight, a 200-pound male should eat at least 33 grams of protein at each and every meal. If the same person is set on a 5 meal per day plan they should eat a minimum of 40 grams of protein per meal and 28 if you are consuming 7 to achieve the same totals. Of course depending on your goal you may take your protein higher or lower, adjusting accordingly. On a low carb day you may take this number to 1.2-1.5- or even 2.0 grams per lb. of body weight.

Keep dietary fats consistent throughout your plan. You will raise your fats on your low carb days and lower them on high carb days. Some individuals will even keep their fat and carb sources separate in their diet plan.
This type of diet focuses on daily manipulation of carbohydrate consumption-hence the name "Carb Cycling" so carbs are a very important part of this diet.
There are three types of days in the diet, and they vary only by the amount of carbohydrates that are consumed. They are the low/moderate carbohydrate day, the high carbohydrate day, and the no/low day.
To achieve maximum results, you must calculate the ratio of carbs to fat and proteins. Your protein intake is higher during the low-carb phase. A woman will multiply her current body by 1.2; men will multiple his weight by 1.5. This number reflects the grams of protein required per day; multiple this total by 4 for your number of calories consumed by protein sources. To calculate your grams of fat, a woman will multiple her weight by 0.5 and a male by 0.8. This total number times 9 will reflect your calorie consumption. Find carbohydrates by multiplying a woman's weight by 0.6 and a man's by 0.9. This total multiplied by 4 will reflect total calories consumed through carbohydrates. Add the three totals to determine your daily caloric intake during this cycle.
The high carb day is established using the same method, only this time, increasing your protein and carbohydrate intake while decreasing your fats. To determine the grams of protein and carbohydrates, a woman will multiply her weight by 1.4 and a man by 1.7. Fat grams are found by multiplying 0.3 by a woman's weight and 0.6 by a man's weight. These totals will reflect the number of nutrient dense calories you can consume on this day
You'll want to focus the majority of these calories right around the training period since this is when your body needs them the most. Plus by doing so, you'll find that the rest of the day stays quite similar in terms of meal planning to your low carbohydrate days.
The no carb day is the simplest, yet most physically and mentally challenging day. It is exactly what it says it is, quite literally, no carbohydrates. You will get some carbs from the greens you eat, but not enough to affect your results.
Be aware that low and no days aren't exactly going to be easy, but you're going to get great results if you can push through them. Some people tolerate low carbs better than others. Only you will be able to discern if you are going too low for you to function properly throughout your day.
The recommendations below are standard but can be adjusted to fit your goals. You can take the ratios given and increase them to make them fit your goals. Multiply your bodyweight by the numbers provided below OR by your own set number to figure how many grams of protein, carbs, and fats you will take in each day. To figure out the calorie consumption you will take the number and multiply it times 4 for both protein and carbs and times 9 for fat.
Carbohydrate Cycling Program Macronutrient Recommendations
Men:
| | | | |
| --- | --- | --- | --- |
| Day | Protein | Carbohydrates | Fat |
| High Carb | 1.7g | 1.7g | 0.6g |
| Low Carb | 1.5g | 0.9g | 0.8g |
| No Carb | | 0 | |
** All recommendations shown in grams per pound of bodyweight
Women:
| | | | |
| --- | --- | --- | --- |
| Day | Protein | Carbohydrates | Fat |
| High Carb | 1.4g | 1.4g | 0.3g |
| Low Carb | 1.2g | 0.6g | 0.5g |
| No Carb | | 0 | |
** All recommendations shown in grams per pound of body weight
For a personalized recommendation based upon your personal factors, contact the staff at Wired Fitness.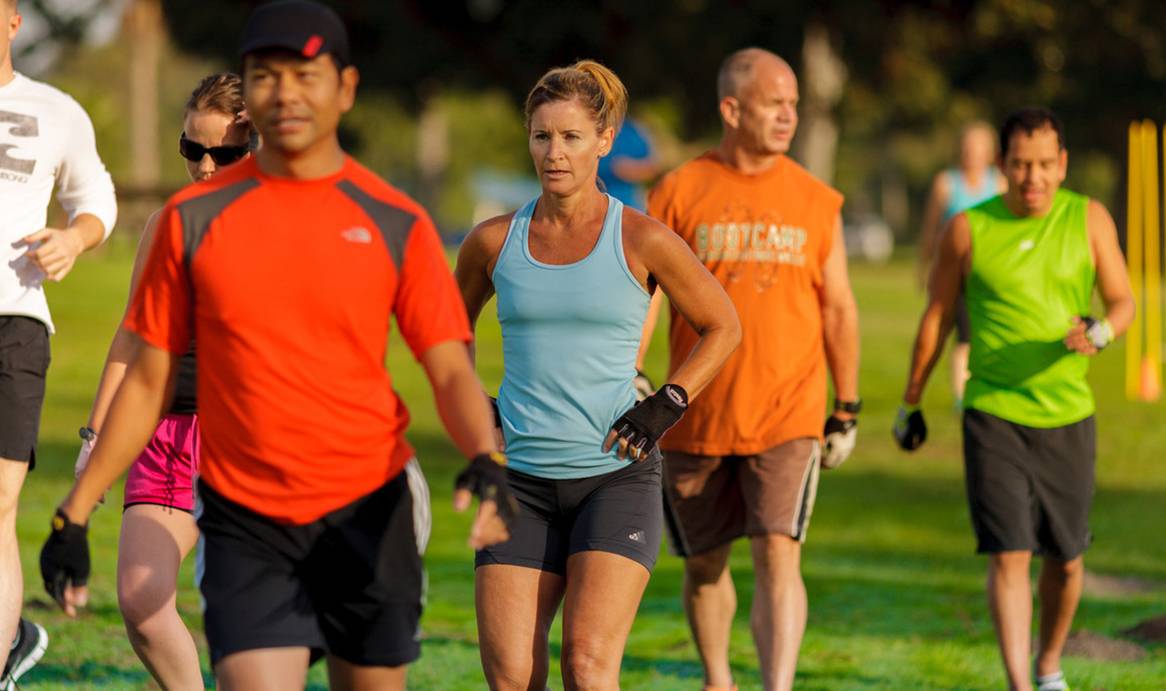 It's hard doing it on your own, at Wired Fitness San Diego we have created a culture of motivation in our fitness bootcamp classes!  We motivate you into learning how to get fit for life and help you maintain this progress over time.  We track your progress by measurements and before and after pictures while participating in our outdoor boot camp training programs. Our convenient schedule of morning and after work classes help to ensure you can fit us in your daily routine. We suggest you attend class a minimum of three days per week, although you can participate as much as you want with our unlimited packages!  Your training journey starts with a free class or consultation.  From there your trainer will set a schedule for you based on your goals, and other activities you are participating in. 
Your program will include:
A constantly varying workout regimen

HIIT interval styled training sessions 

Body assessment & composition testing (Optional)

Personalized macro & nutrition plan (Optional add-on)

San Diego's 'Best' Outdoor Fitness Bootcamp Class
San Diego Bootcamp,  Group Fitness Class, Personal Training, Youth Fitness
Total body conditioning…

Wired Fitness has been a great way for me to receive total body conditioning!  I've worked out with weights and body conditioning classes for body tone for most of life.  Wired Fitness gave me another way to accomplish even more.   The variety of exercises and equipment along with cardio have kept the program fun and yet challenging!  If you're looking to get toned, test yourself in a variety of exercises, get your body trim and to sweat a lot, give it a try-you'll like it!